About Us
Mexican food is great for sharing and we've been sharing our great Mexican inspired food with the world since 1938 and because we've been cooking up sizzling fajitas, crunchy tacos and lots of other tasty dishes for such a long time now, we like to think we're pretty good at it and lots of you seem to agree.
The name Old El Paso is inspired by the city El Paso situated in Texas close to the Mexican border. El Paso is a very important entry from Mexico to the US for clothing and food and is often referred to as the "Mexican food capital of the world". The earliest known culture in the region were the maize farmer which have come to form the Mexican food culture a lot as well.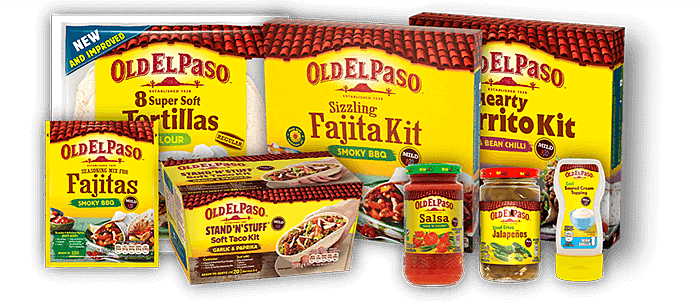 Our range has grown over the years and now features everything from dinner kits, tasty cooking sauces, salsas, dips, seasoning mixes, tortillas and chips. We're always making new products too – in fact our latest creations include Stand 'N' Stuff Soft Tacos and these have been extremely popular since hitting the shelves of the Mexican food category.
Old El Paso™ brings consumers not only the taste, but the fun of getting together and sharing Mexican inspired food - and you'll find our products in shops and supermarkets all over the world. We hope you enjoy them! We're part of General Mills and you can find more information about us by clicking here.