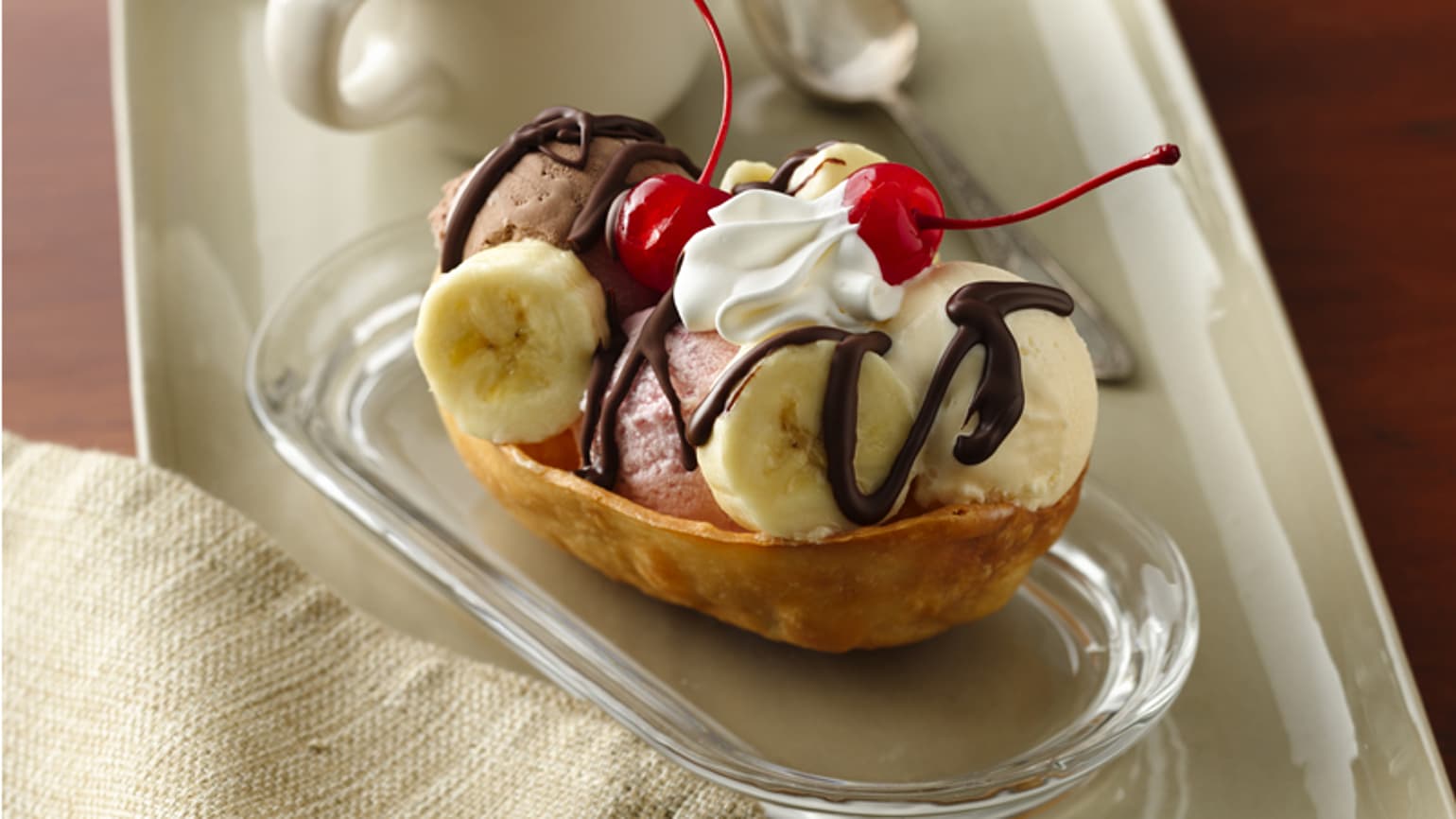 Banana Split Stand 'N Stuff™ Dessert Tacos
Tacos get a makeover and move to dessert. These tortillas make a fantastic shell for a banana split when quickly fried.
Ingredient List
Banana Split
Vegetable oil, for frying
1 pack Old El Paso™ Stand 'N' Stuff Soft Flour Tortillas
8 small scoops chocolate ice cream
8 small scoops strawberry ice cream
8 small scoops vanilla ice cream
2 bananas, peeled and sliced
Toppings
80 g dark chocolate
1 tablespoon vegetable oil
150 g double cream
1 tablespoon icing sugar
16 red cocktail cherries, with or without stems
Preparation
Heat 5-6 cm of vegetable oil in a large deep pan or deep fat fryer, to 180°C, or until a small piece of bread browns in 10 seconds.
Cook the tortillas, in batches, for 1 to 2 minutes, until golden brown then remove with a slotted spoon and drain on a kitchen roll lined baking sheet. Leave to cool slightly before serving.
Fill each tortilla with the 3 different types of ice cream and divide the slices of banana between them.
Melt the chocolate and oil in a small bowl over a pan of gently simmering water, until smooth. Drizzle over the ice cream and bananas.
Whisk the double cream with the icing sugar, in a medium bowl, until soft peaks form, and spoon over the tortillas before serving with the cocktail cherries.
Expert Tips
Fresh fruits are a great addition to these dessert tacos. Why not try fresh raspberries, strawberries or blueberries.
Bring an extra texture to the dish by serving with chopped nuts. Hazelnuts, peanuts and pecans would all work well.