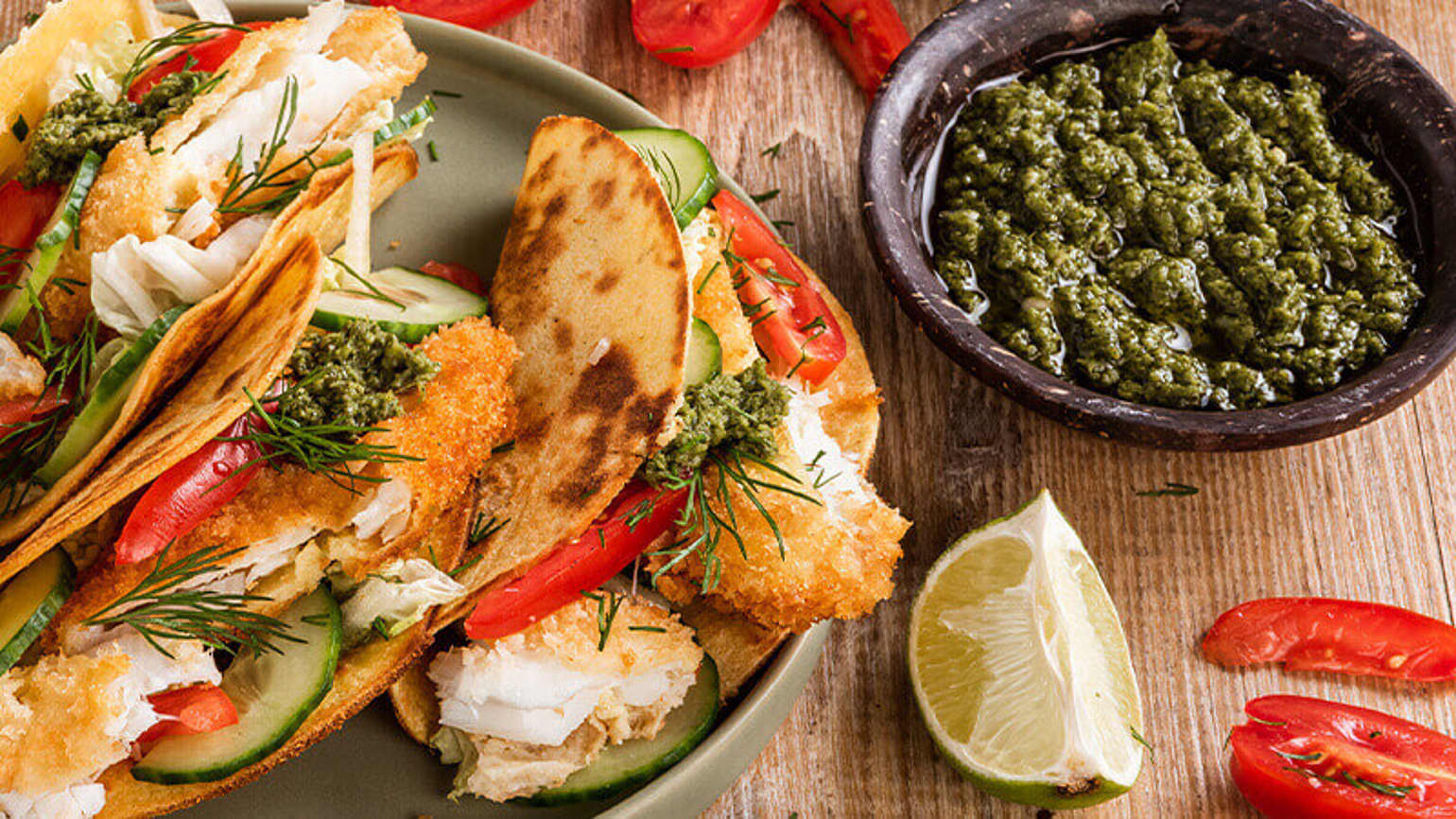 Crispy Fish Birria Tacos
Crunchy and bursting with flavour, our crispy fish birria tacos bring a fun twist to the classic fish taco.
Ingredient List
4 Old El Paso™ Super Soft Regular Flour Tortillas
200 grams of Cod
100 grams of Flour
2 Eggs
200 grams of Breadcrumbs
1/2 Cucumber
1 Onion
1 large Tomato
1/4 of Chinese Cabbage
15cl of Olive oil
20cl of Grapeseed oil
1 bunch of Dill
1 Garlic clove
Preparation
Prepare the cod
Cut the cod into slices of 1 cm to 1.5cm thick.
On one plate, add your flour. On a second plate add your breadcrumbs. Take your 2 eggs and gently beat them together in a bowl.
Before you begin coating your cod, put the grapeseed oil into a medium pan and turn it on to medium heat. Take each slice of cod and dip it first into the flour plate and evenly coat your fish. Then dip the flour-coated fish into the beaten eggs. After that, take your fish pieces and coat them in your breadcrumbs.
Once your grapeseed oil is hot, cook your breaded cod for around 10 minutes, until your fish is cooked through and the outside has a nice, crispy golden colour.
Make the dill pesto
Wash the dill and finely chop it. Put the chopped dill, olive oil and garlic clove into a blender with a pinch of salt and blend until smooth.
Prepare the marinated onion
Finely slice the onion and add to a bowl with some olive oil. Salt and pepper to taste.
Prepare the vegetables
Wash your vegetables. Finely slice the cucumber, tomato and Chinese cabbage.
Build your taco
Place a tortilla each into a hot pan with some butter. Leave for a minute or two on each side until slightly coloured.
In each taco, put a piece of crispy cod, some cucumber slices, tomato and Chinese cabbage. Top with your marinated onion and close the taco.
Serve with your dill pesto and enjoy!