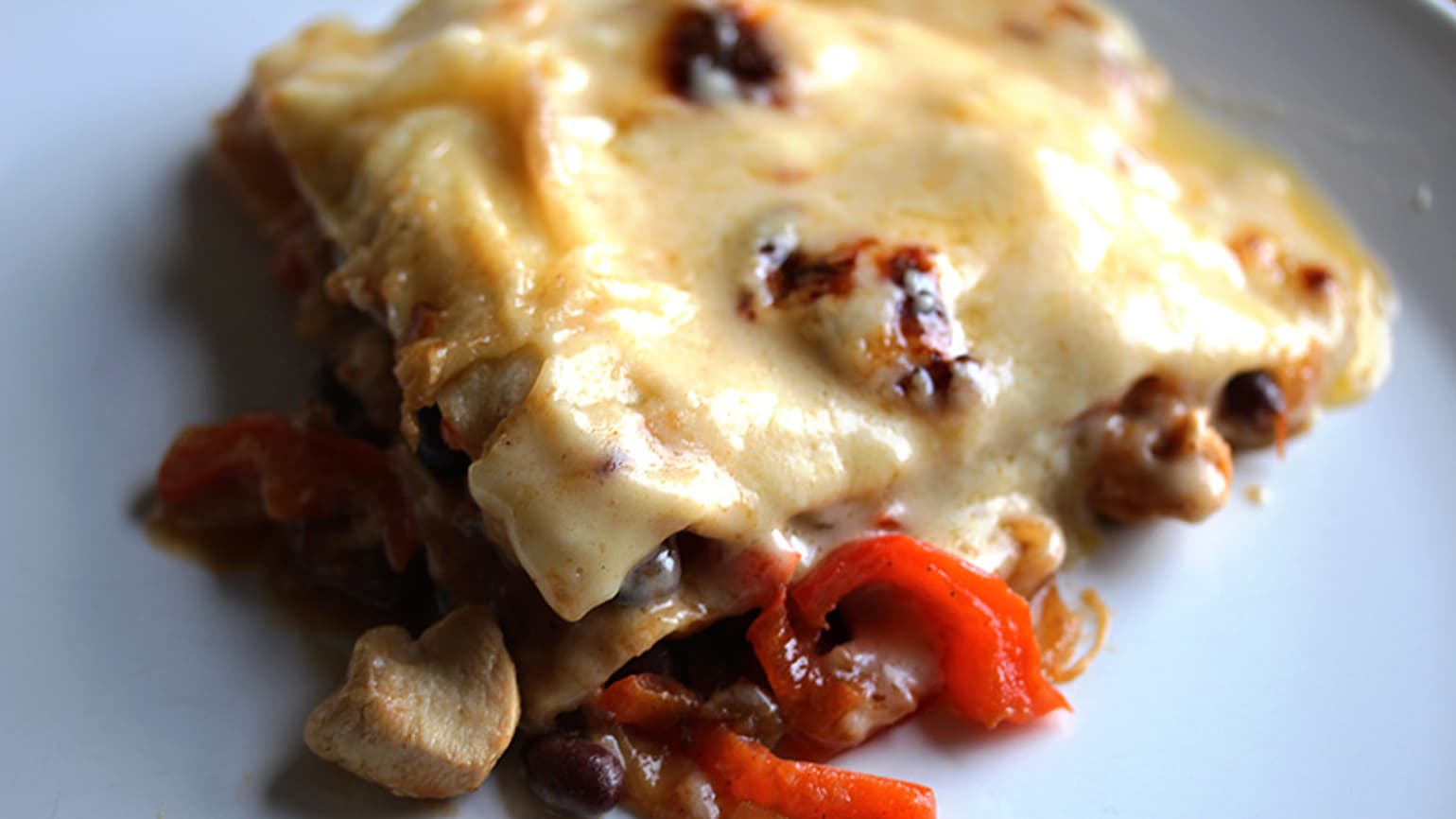 Old El Paso Chicken Tortilla Bake
Note: you'll end up with 4 flour tortillas leftover, which you can use as wraps for lunch the next day.
Ingredient List
50 gbutter
40 gplain flour sifted
570 mlmilk
200 g cheddar cheese, grated
1 tspcayenne pepper
Salt and pepper
2 tbspolive oil
1 onion, halved and sliced
2 clovesgarlic, crushed
2 skinless chicken breasts, cut into bite-size pieces
1 red pepper, sliced
1 green pepper, sliced
1 Old El Paso™ Original Smoky BBQ Fajita Dinner Kit
400 gOld El Paso™ Black Beans
Preparation
Preheat the oven to 220°C / gas mark 7.
To make the cheese sauce, melt the butter in a saucepan and remove from the heat. Stir in the sifted flour.
Return the pan to the heat and gradually add the milk, just a little at a time. Stir well after each addition, making sure all the milk is incorporated before adding more. Continue until all the milk is mixed in, and then cook very gently on a low heat for another 5 minutes.
Stir in 150 g of the cheddar cheese and the cayenne pepper and season to taste. Set aside. (Alternatively, use 570 ml shop-bought cheese sauce.)
Heat the olive oil in a large frying pan and gently fry the onion until soft and translucent. Add the garlic and fry for a couple of minutes before adding the chicken pieces. Turn up the heat and cook the chicken for around 5 minutes until no pink remains.
Throw in the slices of pepper and the seasoning mix from the Dinner Kit and stir fry for a couple more minutes. Drain the black beans, stir these in, along with the pack of salsa from the Dinner Kit, and warm it all through.
Spoon half of the cheese sauce into the base of a 20 cm round baking dish. Lay a tortilla on top, followed by a third of the chicken mixture. Repeat this twice more, followed with the final tortilla. Cover with the remaining cheese sauce and the remaining grated cheese.
Bake in the oven for 15 to 20 minutes until golden and bubbling on top. Serve with a simple salad.