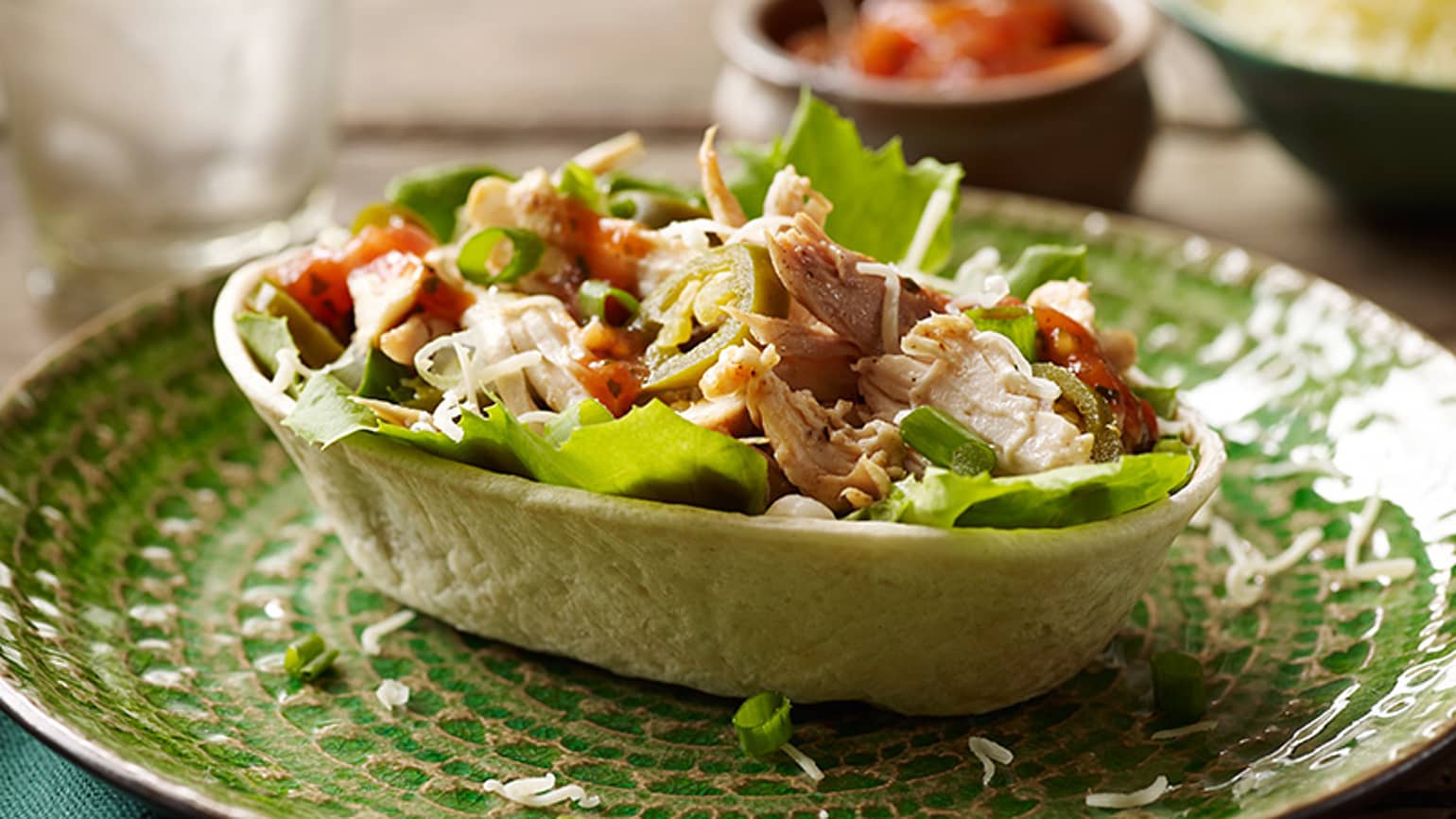 Pulled Chicken & Chilli Stand 'N' Stuff Soft™ Tacos
Old El Paso's smoky BBQ and chilli pulled chicken taco recipe is the perfect dish for enjoying with friends and family, packed with cheese, onions and lettuce.
Ingredient List
1 Old El Paso™ Stand 'N' Stuff Soft Flour Tortillas
1 tbspolive oil
250 gchicken thigh, skinned and taken off the bone
1 Old El Paso™ Smoky BBQ Fajita Seasoning Mix
240 ggrated cheddar cheese (or whichever cheese takes your fancy!)
1/2 jar of Old El Paso™ sliced green Jalapeños
4 mediumspring onions, chopped
1 jarOld El Paso™ Thick 'N' Chunky Salsa
1 lettuce head, shredded
Preparation
Cook your Chicken Place the oil in a large frying pan over a medium heat and then add the chicken. Continue to cook your chicken until golden and no longer pink in the middle. Sprinkle over the Smoky BBQ Fajita Seasoning Mix and cook for a further minute.
Shred your Chicken Remove your chicken from the heat and place onto a large board. With 2 forks, gently pull the chicken apart, until it is completely shredded. Once your chicken is shredded stir in the spring onions and jalapeños.
Warm It Up Take the tortillas out of their packaging – it is important not to oven heat or microwave the soft tortilla shells in the plastic packaging. To heat in the microwave, put them on a microwaveable plate, on full power, for 30 seconds. To oven heat, pre-heat the over to 165⁰C (same for fan assisted ovens) / gas mark 3 and wrap the tortilla shells in foil before placing on a baking tray in the oven for 7-9 minutes.
Stand, Fill & Top Fill your Stand 'N' Stuff Soft Flour Tortillas with your lettuce, shredded chicken mix, and finish off with a dollop of Thick 'N' Chunky Salsa and a sprinkle of grated cheese – get stuck in!