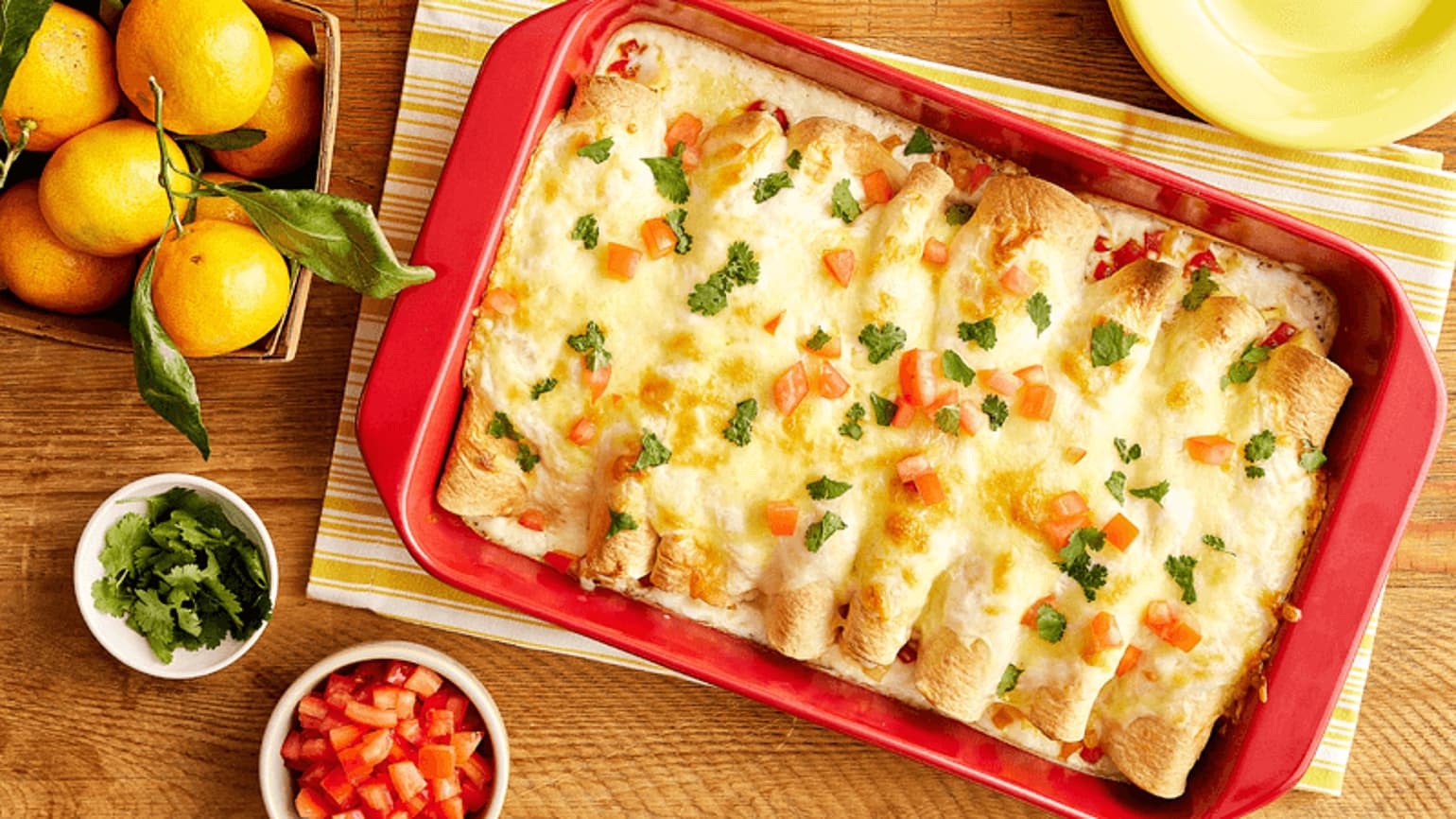 Breakfast Fajita Enchiladas
Brunch has never been better! Get your Mexican feast and your creamy, cheesy egg bake all in one dish.
Total Time
1 Hours
15 Minutes
Ingredient List
Vegetable oil, for greasing
100g butter
1 medium onion, diced
1 red pepper, deseeded and diced
1 yellow pepper, deseeded and diced
1 x 35g sachet Old El Paso™ Smoky BBQ seasoning mix for fajitas
3 tablespoons plain flour
500mL milk
250g grated Cheddar cheese
10 eggs
8 Old El Paso™ Regular Flour Tortillas
1 large tomato, deseeded and diced
2 tablespoons freshly chopped coriander
Preparation
Preheat the oven to 200°C (180°C for fan assisted ovens), gas mark 6. Grease a large rectangular baking dish with oil.
Melt 25g of the butter in a large frying pan over a medium-high heat. Add the onion and peppers and cook for 4-5 minutes, stirring occasionally, until softened. Transfer to a bowl, stir in the seasoning mix and cover to keep warm.
Melt another 50g of the butter in a medium saucepan over a medium heat. Add the flour and cook, stirring, for 1 minute. Gradually whisk in 450ml of the milk and bring to a simmer. Cook for 3-4 minutes, whisking all the time, until thickened. Remove from the heat and stir in 25g of the cheese. Season to taste with salt and pepper. Cover to keep warm.
Beat the eggs and remaining milk in a large jug until well blended. Clean out the frying pan and place over a medium heat; add the remaining butter and melt. Add the egg mixture and cook for 1-2 minutes, stirring frequently, until the eggs are set.
Spread half of the sauce over the bottom of the dish. Divide the eggs and vegetable mixture evenly down the centre of the tortillas. Top each with about 20g of cheese (reserving the rest for topping). Roll up and place, seam side down, on the sauce in the dish. Pour the remaining sauce over the filled tortillas. Scatter over the reserved cheese.
Bake for 30-35 minutes or until thoroughly heated, golden and bubbly. Serve garnished with the tomato and coriander.
Expert Tips
Mix it up by using different types of cheese or veggies.
For a spicy topping, top with Old El Paso™ Sliced Green Jalapeños.
Cooking Vegetarian? Always read labels to make sure each recipe ingredient is vegetarian. Products and ingredient sources can change.