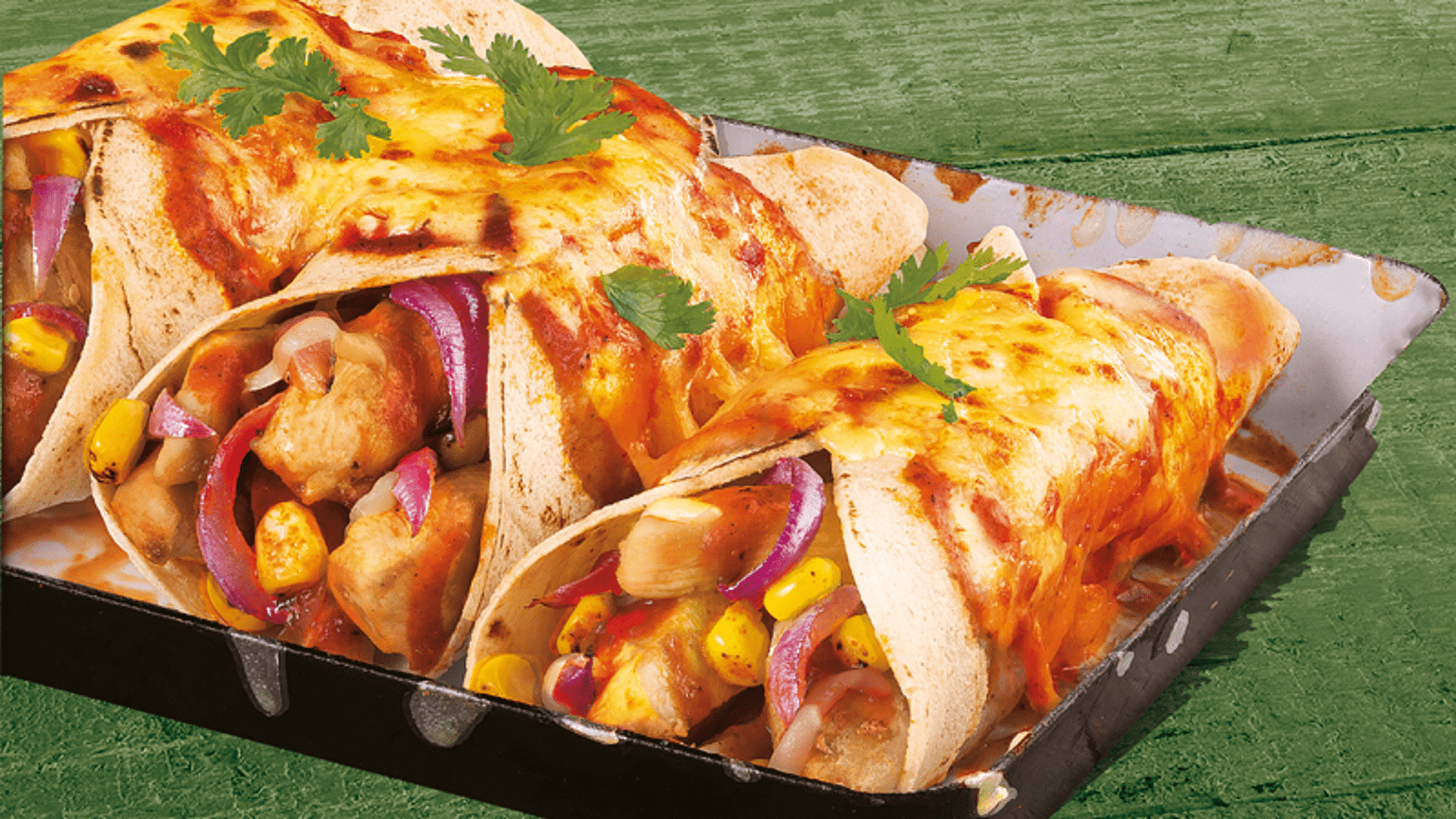 Gluten Free Chicken Enchiladas
Bake a mouthwatering Mexican meal for the whole family with our gluten free enchiladas recipe at Old El Paso. Grab our Gluten Free Enchilada Kit and just add chicken, veggies and cheese for an easy gluten free dinner. Perfect for sharing, these gluten free enchiladas are ready in just 25 minutes!
Ingredient List
1 Old El Paso™ Gluten Free Enchiladas Cheesy Baked
500g chicken, chopped
150g corn kernels
1 red onion, chopped
150g mozzarella, grated
Preparation
Preheat the oven to 180°C (160°C fan-assisted ovens). Heat a little oil in a large frying pan and brown the chicken over high heat for 4 minutes. Add the onion and cook for a further 3 minutes. Add the cooking sauce, corn kernels and 80ml of hot water to the chicken, bring to the boil and simmer for 4 minutes. Remove from the heat and stir in half of the cheese.
Warm the gluten free tortillas:
Microwave: pierce the pack and place it in the microwave. Heat for 35 seconds on full power (800 watts)*. Open the pack, separate the tortillas and keep them covered until ready to serve.
* time may vary depending on microwave wattage.
Place a large spoonful of the chicken mixture onto the centre of each tortilla, add a drizzle of creamy sauce, roll and place in a greased ovenproof dish. Spread the remaining creamy topping sauce over the top of the enchiladas and sprinkle with the remaining cheese. Bake for 10 minutes, or until cheese is golden.
Serve these gluten free enchiladas hot and enjoy!
Expert Tips
Add a twist to your enchiladas – top them with coriander and chopped avocado before serving.