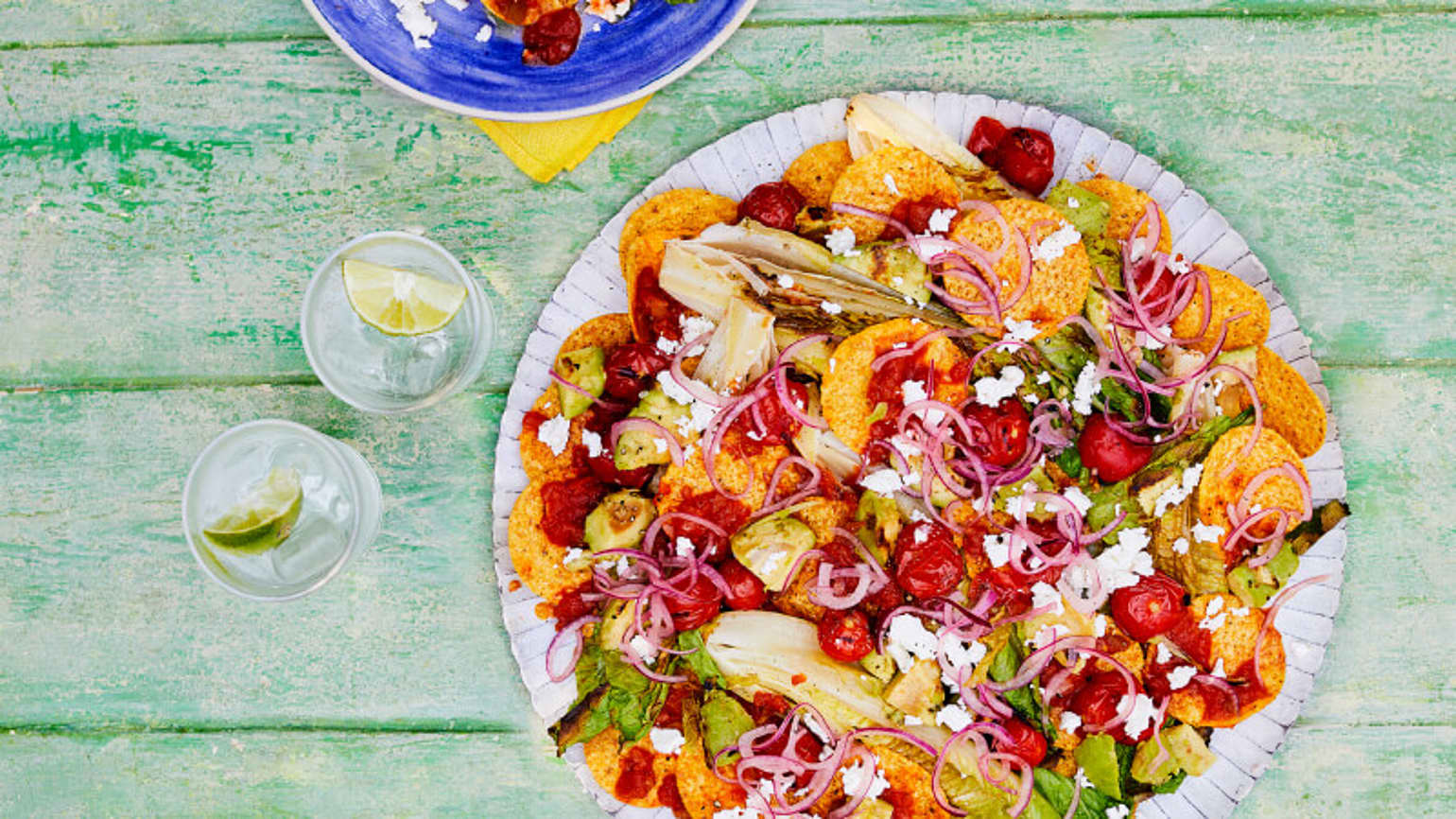 BBQ Nacho Salad
The best way to use Old El Paso™ Tortilla Chips at a BBQ, load em up with charred veggies, gooey cheese and tomato salsa.
Ingredient List
185g Old El Paso™ Tortilla chips
4 heaped tbsps of Old El Paso™ Thick 'N' Chunky Salsa
1 large avocado, halved, stone & skin removed
200g vine tomatoes
2 Cos lettuces, trimmed and halved lengthways
1 small red onion, peeled, halved and finely sliced
1 tbsps of Red wine vinegar
A drizzle of runny honey
50g feta cheese, crumbled
Preparation
Preheat the BBQ to a medium/high heat. Place the avocado onto the grill of the BBQ along with the vine tomatoes and cook for 8-10 minutes turning halfway, until charred and softened. Remove to one side.
Add the red onion to a small bowl along with the vinegar and a pinch of salt and a little honey – scrunch together and leave to pickle.
Meanwhile wash the lettuce and cook on the BBQ for 10 mins turning halfway until charred.
To assemble, get a large serving dish, and add a layer of tortilla chips to the bottom, then dollop on chunky salsa. For the lettuce, cut each half into half again then lay about over the nachos. Roughly cut up the charred avocados into chunks, remove the charred whole tomatoes from the vines (don't worry if some break a little the juices are good!), crumbled feta, then finish with pickled red onions (without the liquid).