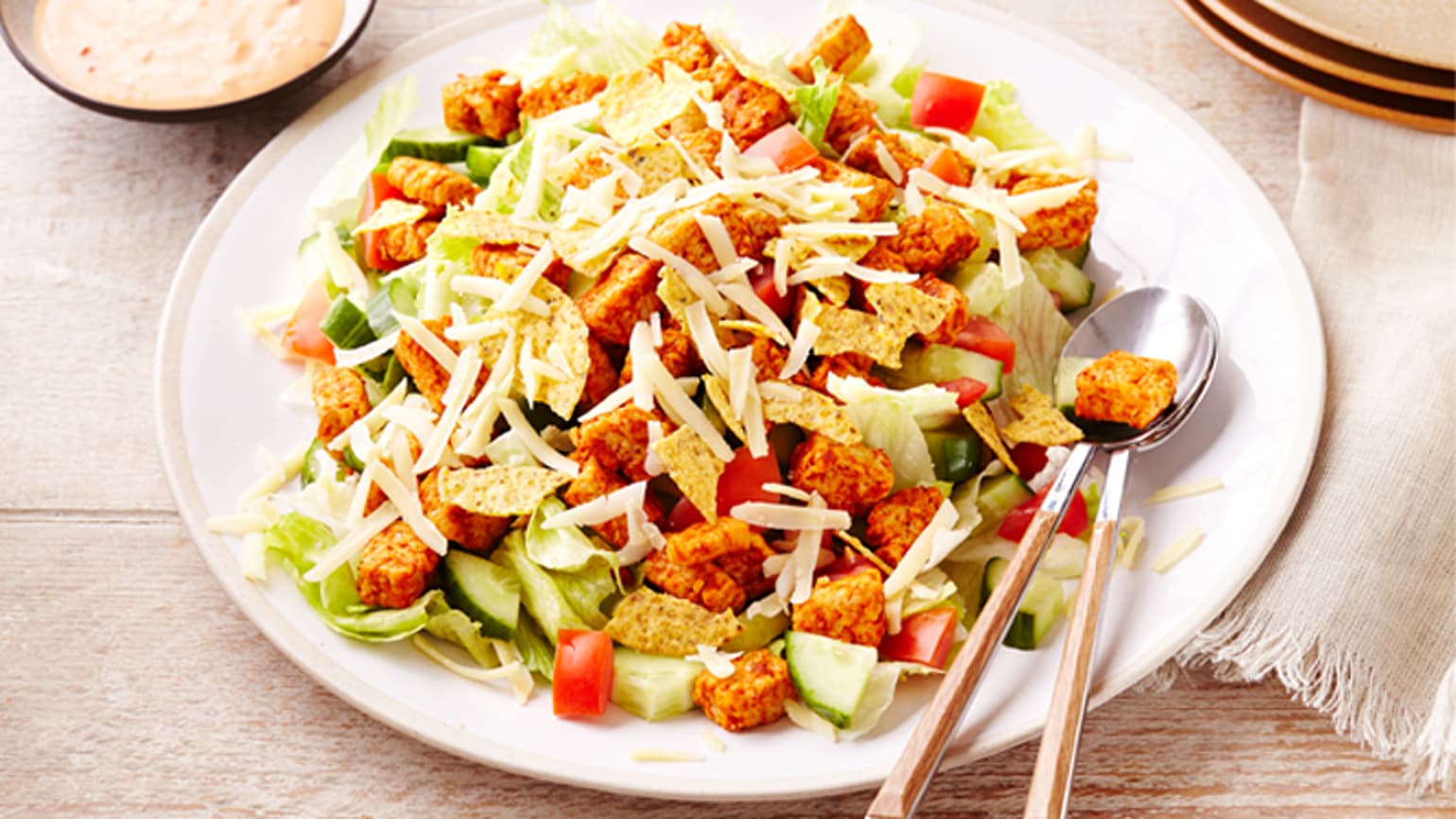 Meat Free Taco Salad
Try this colourful and filling main meal salad for a fabulous speedy meat free supper!
Ingredient List
Taco Salad
1 tablespoon vegetable oil
300g frozen meat free chicken pieces
2 tablespoons Old El Paso™ Garlic & Paprika Seasoning Mix for Tacos
100ml water
1/2 head iceberg lettuce, torn into pieces
1 large tomato, chopped
1/2 green pepper, deseeded and chopped
1/2 cucumber, quartered lengthways and chopped
50g ready-grated Cheddar cheese
20g Old El Paso™ Original Nachips™, roughly crushed
To Serve
Fresh coriander leaves
Thousand Island salad dressing
Preparation
Heat the oil in a large non-stick frying pan over a medium heat. Add the meat-free chicken pieces and fry over a low heat for 4-5 minutes, stirring frequently. Stir in the taco seasoning mix and the water and cook, stirring, for a further 5-6 minutes. Remove from the heat and leave to cool about 10 minutes.
Toss the lettuce, tomatoes, pepper and cucumber together in a large shallow serving dish. Top with the meat-free chicken pieces, cheese and Nachips™. Serve garnished with coriander leaves with the salad dressing on the side.
Expert Tips
Use any variety of lettuce for this salad or try baby spinach leaves instead.
For a lighter dressing drizzle with balsamic vinegar whisked with a little olive oil.