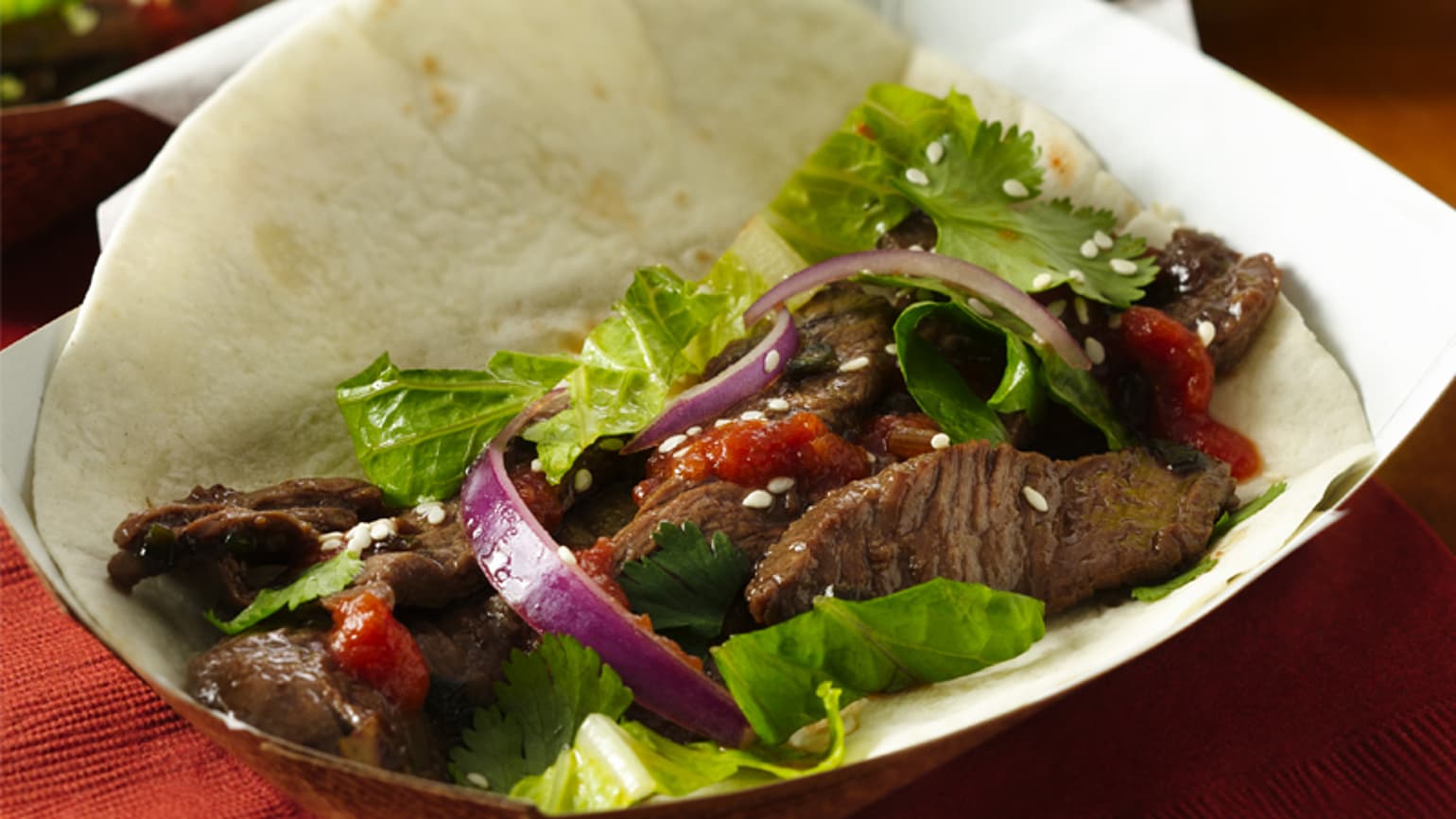 Beef Bulgogi Korean Tacos
Load up a soft tortilla with Korean BBQ beef, coriander-lettuce coleslaw and a fiery Sriracha salsa.
Ingredient List
Beef and Marinade
500 g beef top sirloin steak, thinly sliced against the grain
3 spring onions, chopped
60 ml soy sauce
3 tablespoons sugar
2 tablespoons vegetable oil
Spicy Salsa
1/2 jar (226 g) Old El Paso™ Thick 'n Chunky Salsa
1/2 teaspoon Sriracha sauce
Coriander Coleslaw
1 tablespoon caster sugar
2 tablespoons fresh lime juice
1 1/2 teaspoons soy sauce
1 large handful coriander sprigs
1 red onion, thinly sliced
1 romaine lettuce, thinly sliced
Tortillas and Garnish
1 pack Old El Paso™ Super Soft Regular Flour Tortillas, heated as directed on pack
1 tablespoon sesame seeds
Preparation
Place the beef and marinade ingredients into a medium bowl or resealable bag and chill in the fridge for 30 minutes.
Meanwhile, place the spicy salsa ingredients into a blender. Blend on medium speed until smooth then pour into a small bowl and set aside. Mix all the coleslaw ingredients except the lettuce in a large bowl and toss together until combined. Place to one side. Just before serving, combine with the lettuce.
Remove the beef from the marinade and discard the excess liquid. Heat a large non-stick frying pan over a medium-high heat and cook the beef for 2 to 3 minutes, stirring, until brown.
Spoon the beef onto the warm tortillas, then drizzle with the spicy salsa and top with the coleslaw. Garnish with sesame seeds.
Expert Tips
Alternatively use lamb or chicken however you will need to cook them longer.
Toast the sesame seeds for a deeper more nutty flavour.