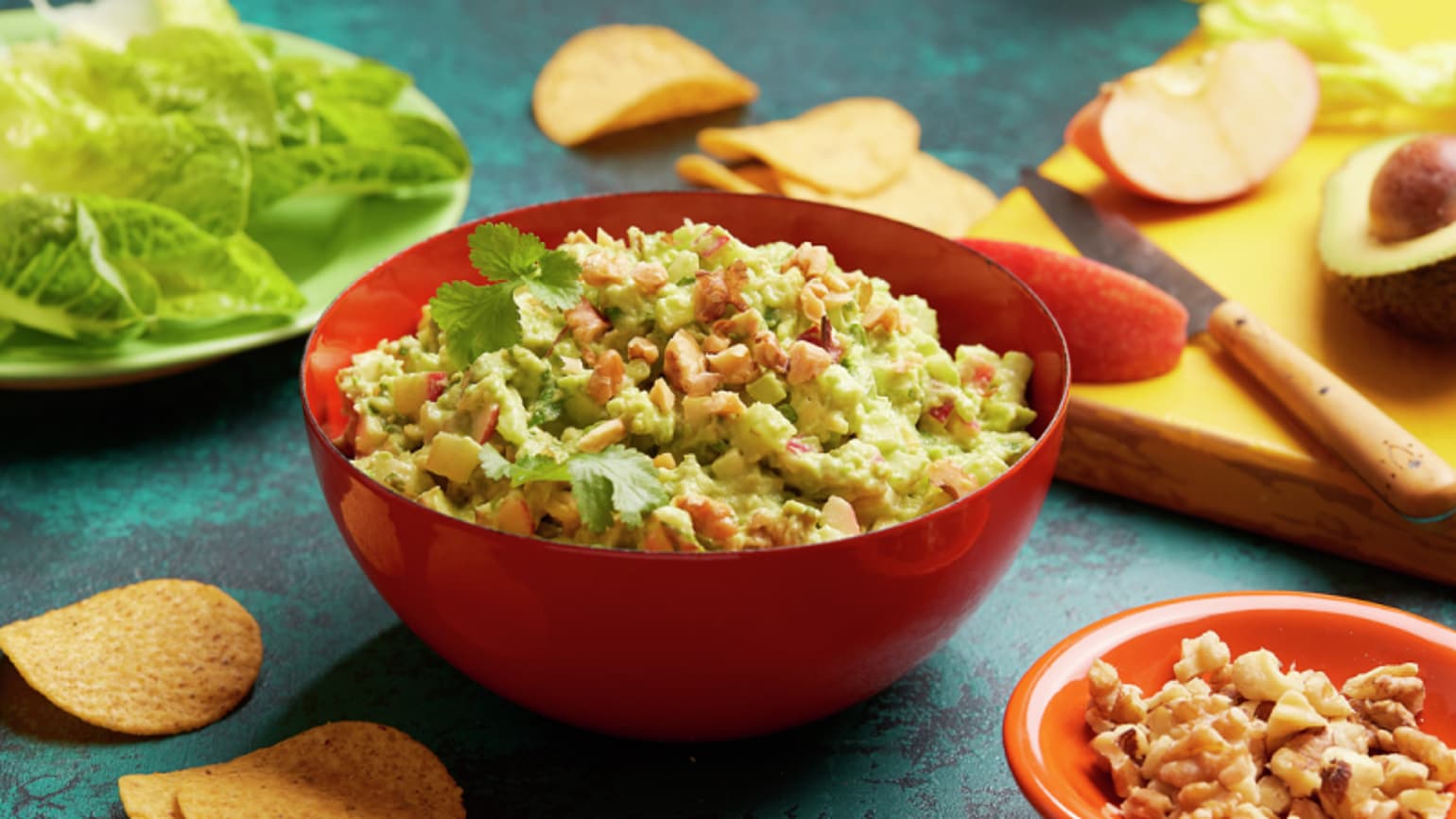 Crunchy Waldorf Guacamole
Give guacamole the Waldorf salad treatment with crunchy apple, diced celery and toasted walnuts!
Total Time
1 Hours
20 Minutes
Ingredient List
2 ripe avocados, peeled, stones removed and flesh mashed
2 tablespoons lime juice
1 small red skinned apple, halved, cored and finely diced
2 celery sticks, trimmed and finely diced
2 tablespoons freshly chopped coriander, plus extra sprigs to garnish
2 tablespoons mayonnaise
1/4 teaspoon salt
30g walnut halves, lightly toasted and chopped
Preparation
Combine the avocado, lime juice, apple, celery, coriander, mayonnaise, salt and nearly all the walnuts in a large bowl. Season with freshly ground black pepper, if you like. Transfer to a serving bowl.
Cover the surface closely with cling film and refrigerate for 1 hour to allow the flavours to blend. Garnish with the remaining walnuts and extra coriander sprigs and serve.
Expert Tips
To toast the walnuts, place in a heavy-based frying pan over a medium heat and cook for 1-2 minutes, stirring, until just browned.
Replace the mayonnaise with natural yogurt or soured cream, if you like.
Don't just dip! Make a deluxe prawn cocktail. Place shredded lettuce in individual serving bowls then top with spoonfuls of the guac, cooked peeled prawns and slices of smoked salmon.
Cooking Gluten Free? Always read labels to make sure each recipe ingredient is gluten free. Products and ingredient sources can change.