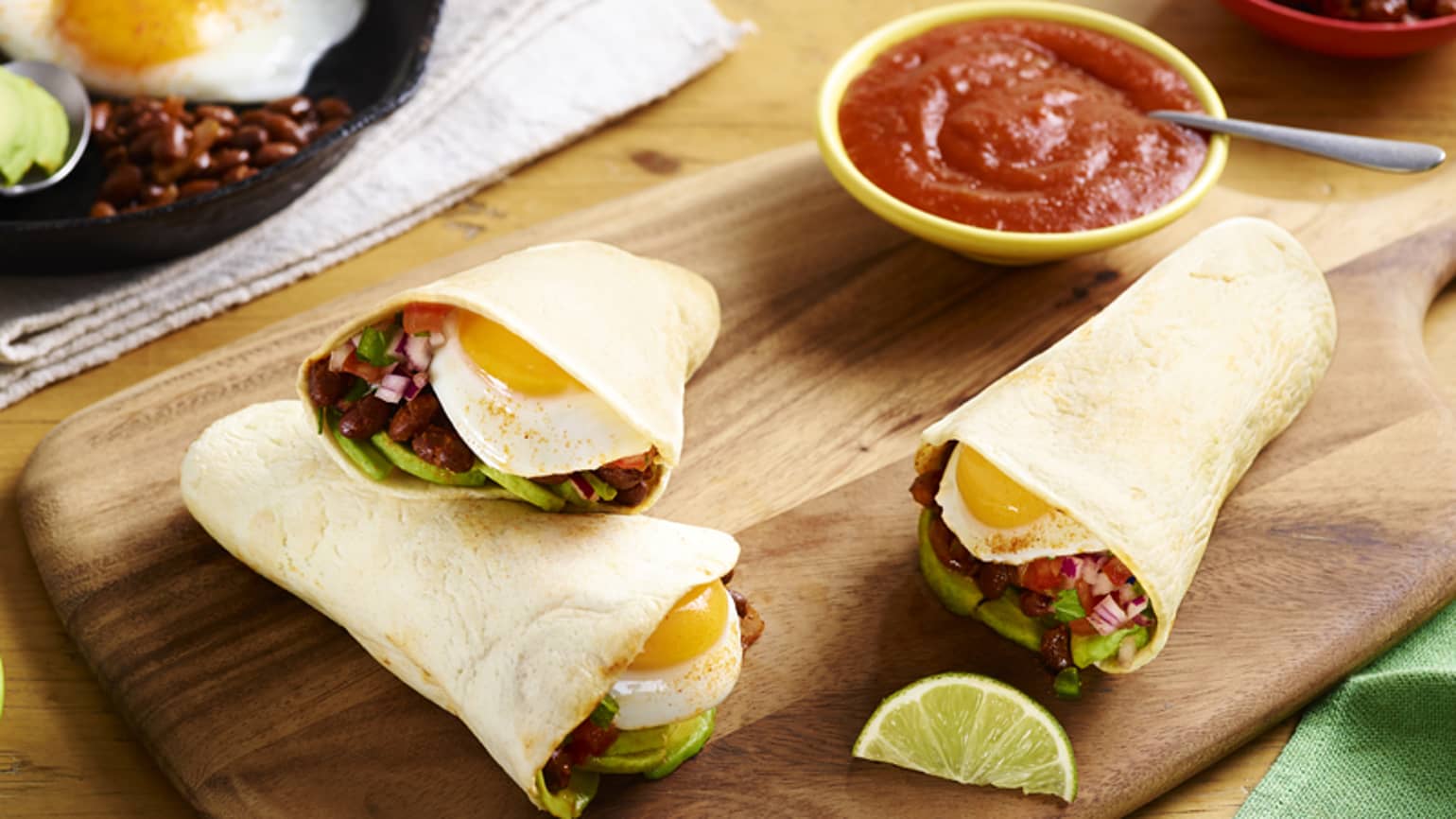 Huevos Rancheros Tortilla Pockets
Pack all the great flavours of this classic breakfast dish into a tortilla pocket!
Ingredient List
1 pack Old El Paso™ Tortilla Pockets™ Kit
1 x 425g tin Old El Paso™ Black Beans, drained and rinsed
1 red onion, peeled and finely chopped
3 large tomatoes, deseeded and diced
1 small green chilli, deseeded and finely chopped
Juice of 1/2 lime
1 tablespoon freshly chopped coriander
2 tablespoons vegetable oil
8 medium eggs
1 large avocado, peeled, stone removed and sliced
Preparation
To make the pico de gallo, mix three-quarters of the onion with the diced tomatoes, chilli, lime juice and coriander in a bowl. Cover and set aside.
Heat 2 teaspoons of the oil in a large non-stick frying pan over a medium heat and add the rest of the onion. Fry for 3-4 minutes, stirring until softened. Add the beans, 2 tablespoons of the seasoning mix from the kit and 3-4 tablespoons water. Cook, stirring, for 1-2 minutes until piping hot. Transfer to a heatproof bowl, cover, and keep warm.
Clean the frying pan. Heat the rest of the oil in the pan over a medium heat. Gently crack the eggs into the pan and fry for 2-3 minutes or until cooked to your liking (you may need to do this in two batches). Sprinkle each fried egg with a little of the remaining seasoning mix, if you like.
Heat the pockets to pack instructions.
Serve the warmed pockets with the fried eggs from the pan and the pico de gallo, beans, avocado and salsa from the kit in separate bowls, and let everyone fill their own pockets their own way!
Expert Tips
Use the left over seasoning mix to add to a chilli and tomato pasta sauce or to sprinkle over chicken before roasting.
PREP AHEAD – Make the pico de gallo up to 1 day ahead and store in an airtight container in the fridge.