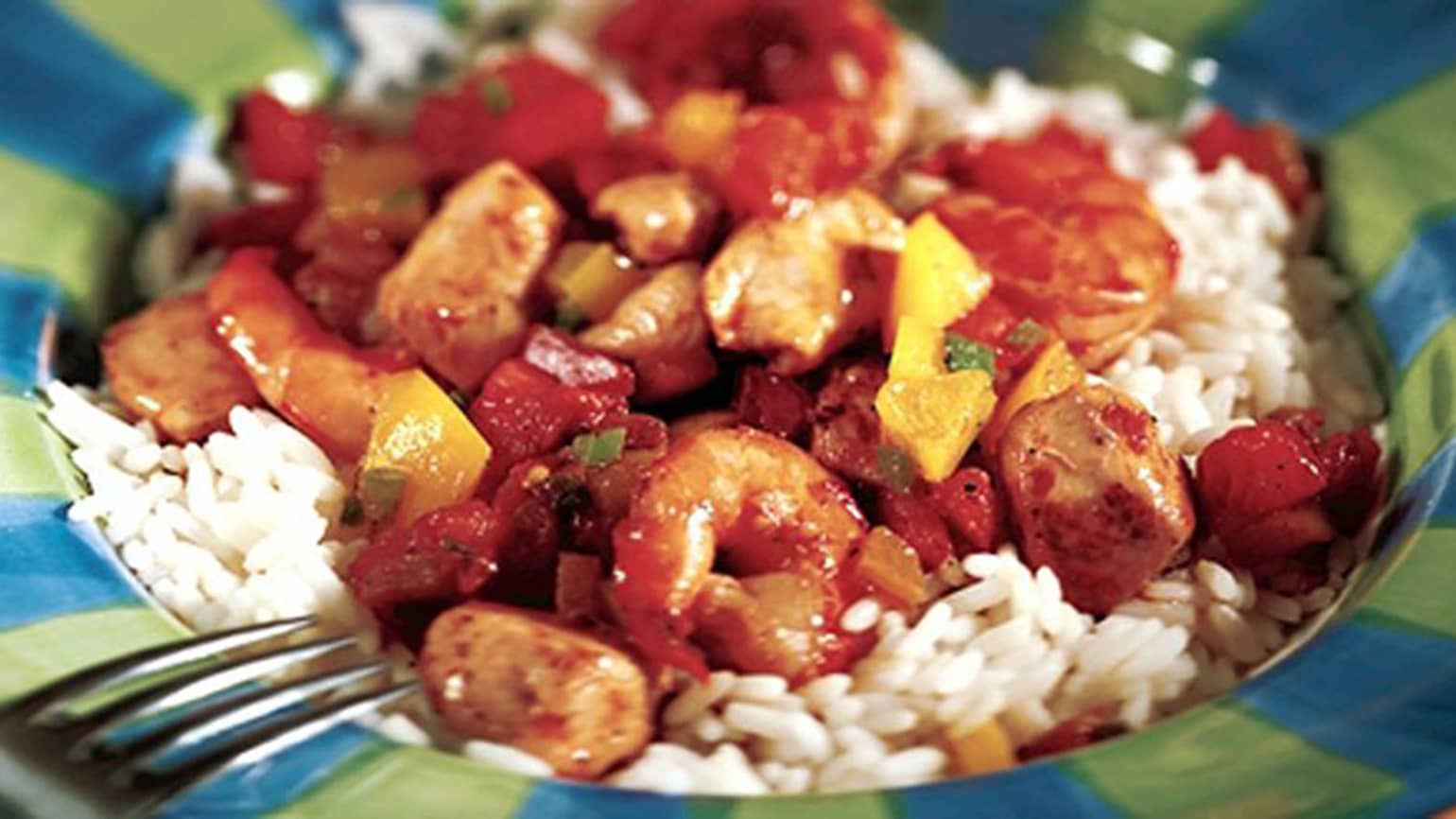 Spicy Mexican Rice with Tiger Prawns & Chicken
Spiced rice with chunks of tender chicken, crisp peppers, fiery jalapenos and supple tiger prawns, seasoned with smoky BBQ herbs and freshly chopped coriander.
Ingredient List
1 pack of Old El Paso™ Seasoning Mix for Original Smoky BBQ Fajitas
1 jar of Old El Paso™ Hot & Tangy Jalapenos
1 tablespoon of sunflower oil
A sprinkling of chopped coriander
450 ml hot chicken stock
240 g cooked peeled Tiger prawns
225 g easy cook long grain rice
4 skinless chicken breasts, cubed
1 can of chopped tomatoes
1 onion, chopped
1 red pepper, deseeded and cubed
1 green pepper, deseeded and cubed
Preparation
Heat a splash of oil in a large pan. Tip in the tender chunks of chicken with the onion and fry for 3-4 minutes until the chicken is lightly browned.
Throw in the rice and mix until it's coated in the oil.
Pour in the smokey Seasoning Mix and stir until all the chicken and onion are smothered in the rich seasoning mix.
Toss in the chopped tomatoes and stock. Cover and simmer for 15 minutes, stirring occasionally.
Throw in the peppers, cover and cook for a further 5 minutes, then stir in the Mexican prawns and jalapenos and cook for another 5 minutes, until the rice is soft and the sauce has reduced.
Garnish with a sprinkling of freshly chopped coriander, get the pan down on a crowded table and share it round.