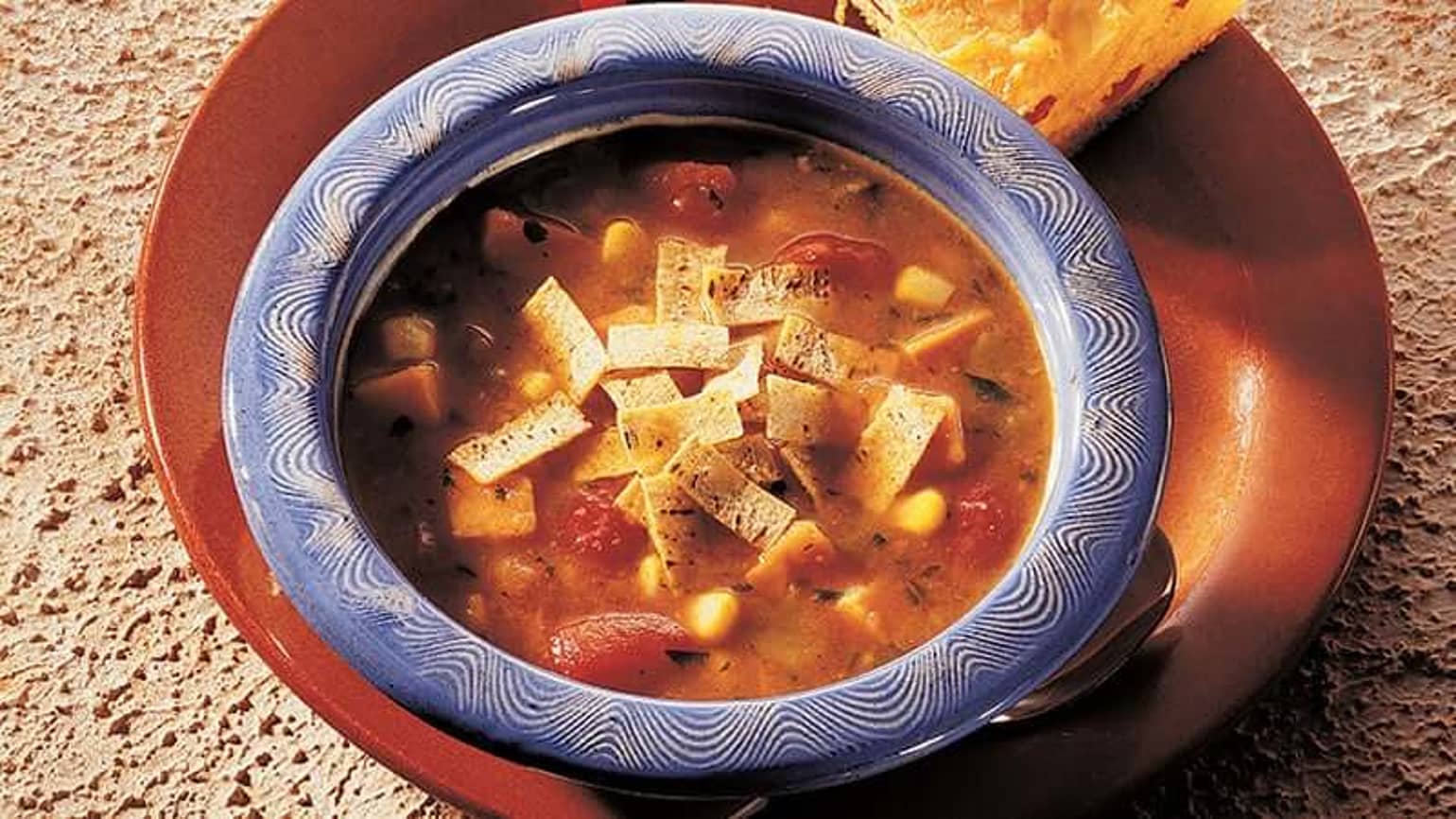 Thick ´n Chunky Tortilla Soup
This vegetable thickened soup is hearty enough even for dinner!
Total Time
1 Hours
5 Minutes
Ingredient List
1 tablespoon vegetable oil
1 onion, finely chopped
2 garlic cloves, finely chopped
4 medium sweet potatoes, peeled, diced
1/2 teaspoon ground cumin
1/2 teaspoon dried oregano leaves
1/2 teaspoon mild chilli powder
1/4 teaspoon cayenne pepper
700 ml chicken stock
2 Old El Paso™ Super Soft Corn Tortillas, cut into strips
Non-stick cooking spray
1 tin (400 g) chopped tomatoes
200 g frozen or tinned sweetcorn
1 green chilli, finely chopped
3 tablespoons fresh coriander, chopped
Preparation
Preheat the oven to 190ºC (170ºC for fan assisted ovens), gas mark 5. Heat the oil in a large saucepan over medium heat and cook the onions and garlic for 5 to 10 minutes, until softened.
Stir in the sweet potatoes, with the cumin, oregano, chilli powder and cayenne and cook for a further 2 minutes, until fragrant. Pour in the stock and bring to a boil. Turn down to a simmer and cook for 20 minutes or until the sweet potatoes are tender.
Meanwhile, place the tortilla strips in a single layer onto a baking sheet. Mist with the cooking spray and cook in the oven for 8 to 12 minutes or until just turning golden and crisp. Cool on paper towels and set aside.
Carefully transfer about 500 g of hot sweet potato mixture to food processor or blender and whizz until smooth. Return the mixture to the pan and stir in the tomatoes, corn, chilli and coriander. Bring back to a simmer and cook over a medium heat for 5 to 10 minutes or until thoroughly heated through.
Serve the soup ladled into bowls topped with the crisp tortilla strips.
Expert Tips
Give it a meaty twist by stirring in 500g cooked shredded chicken.