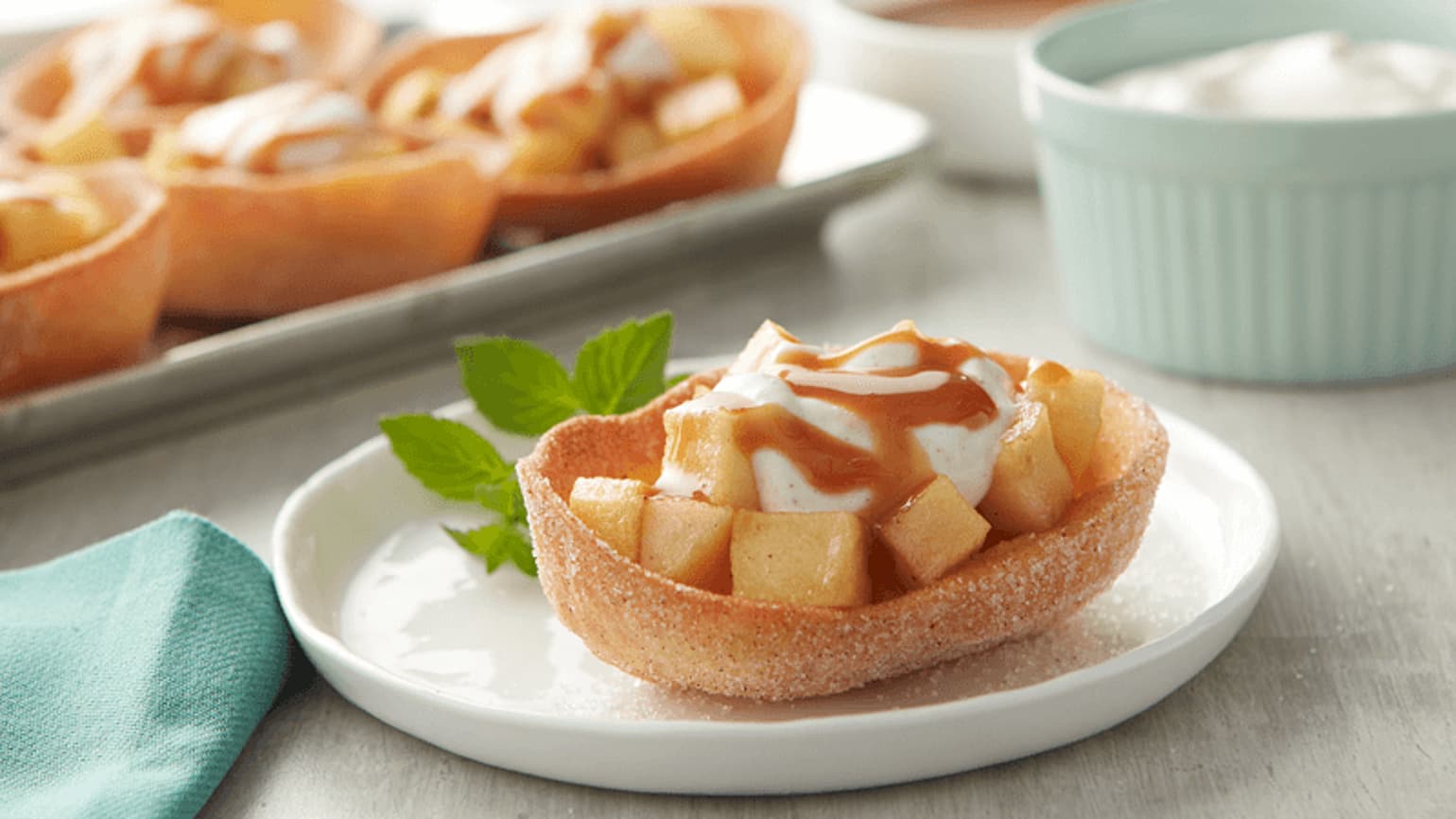 Toffee Apple Mini Tacos
Quick to assemble for a weeknight dessert, and pretty enough to serve for a special occasion, this spin on apple pie is teeny enough for kids to enjoy and so delicious, adults will want to have two!
Ingredient List
30g butter, melted
1 pack Old El Paso™ Mini Stand 'N' Stuff™ Soft Flour Tortillas
2 tablespoons granulated sugar
1 1/4 teaspoon ground cinnamon
4 medium Granny Smith apples, peeled, cored and cut into 1 cm cubes
100g light soft brown sugar
1 tablespoon lemon juice
Pinch of salt
175ml double cream
2 tablespoon icing sugar
50g caramel or toffee sauce
Preparation
Preheat the oven to 200°C (180C for fan assisted ovens),gas mark 6.
Place the tortillas on a baking tray and brush lightly all over with the melted butter.
In small bowl, mix the granulated sugar with 1/4 teaspoon of the cinnamon. Sprinkle inside and outside the tortillas.
Bake 5 to 7 minutes or until browned on edges and firm to the touch. Transfer to a wire rack and cool for 10 minutes (they will crispen as they cool).
Meanwhile, combine the apples, brown sugar, lemon juice, remaining cinnamon and salt in a large non-stick frying pan and place over a medium-high heat. Cook for 9 to 11 minutes, stirring occasionally, until the apples are tender and golden.
In chilled medium bowl, beat double cream and icing sugar with electric mixer on high speed until soft peaks form.
Divide the apple mixture between the baked tortillas then top each with a spoonful of the whipped cream and a drizzle of caramel or toffee sauce and serve immediately.
Expert Tips
Sprinkle the whipped cream with a little more cinnamon for an extra spiced flavour.
Like a little tangy flavour with your sweet? Crème fraiche makes a nice substitute for the whipped cream.
You can use squirty cream or whipped dairy cream from a can instead of the whipped double cream for speed, if you like.