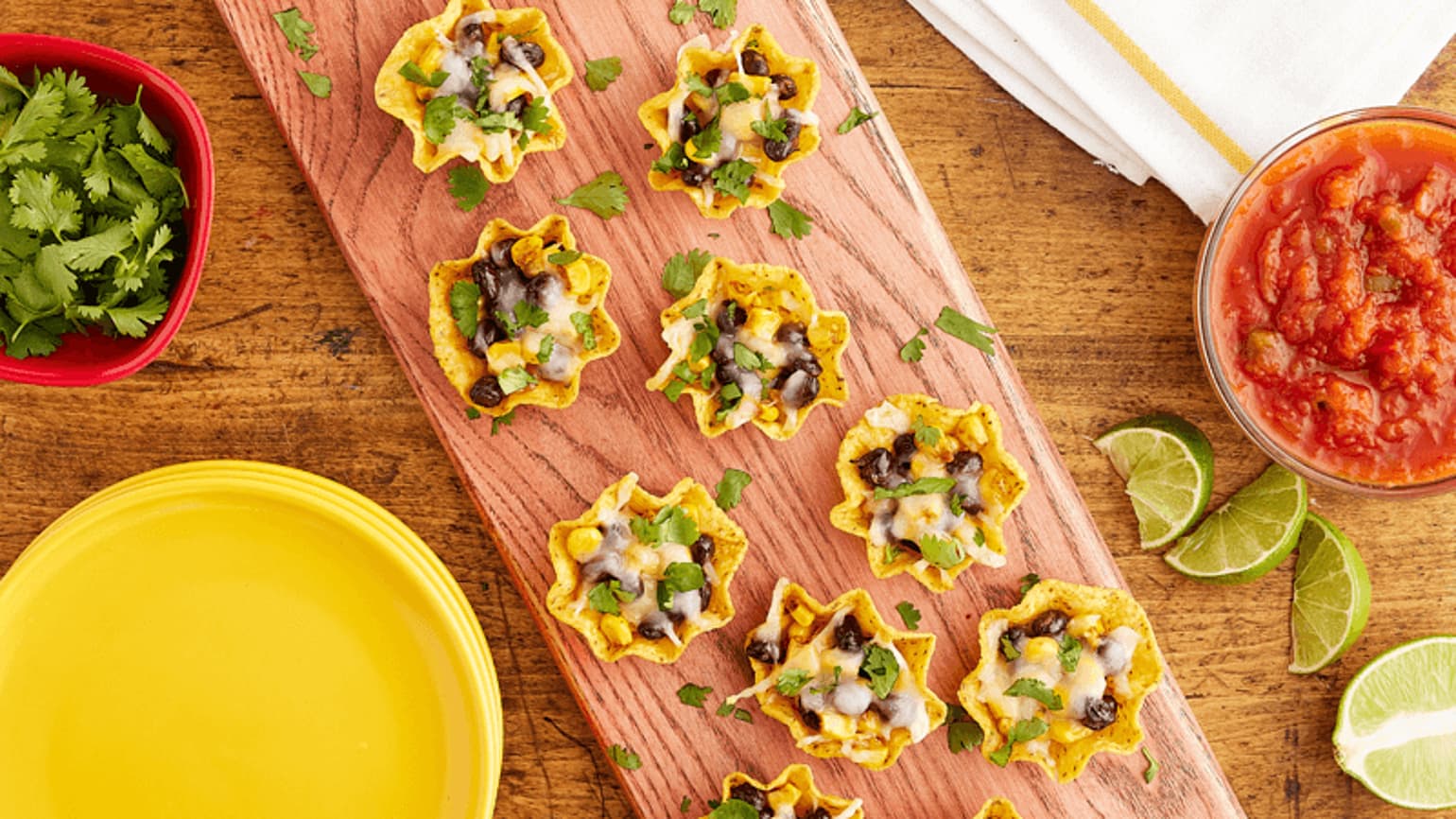 Tortilla Bowls with Black Beans and Corn
Get cheesy, veggie-loaded canapés on the table in no time with these quick and easy tortilla bowls.
Ingredient List
Vegetable oil, to grease
32 Old El Paso™ Tortilla Bowls (from 150g bag)
130g Old El Paso™ Black Beans, drained and rinsed (from 425g tin)
60g Old El Paso™ Thick 'N' Chunky Salsa (from 226g jar)
130g Green Giant™ Sweet Corn, drained (from 198g tin)
1/2 teaspoon ground cumin
1/2 teaspoon chilli powder
150g ready-grated mozzarella cheese
1 tablespoon freshly chopped coriander
Preparation
Preheat the oven to 200°C (180°C for fan assisted ovens), gas mark 6. Lightly grease baking sheet with vegetable oil. Place the tortilla bowls on the baking sheet.
Mix the sweet corn, beans, salsa, cumin and chilli powder in a medium bowl. Spoon a scant tablespoon of the bean mixture into each tortilla bowl. Top each with about 1 teaspoon of cheese. Bake for 6-8 minutes, or until the cheese is melted and filling is hot. Top with coriander. Serve immediately.
Expert Tips
Use different grated cheeses for alternative flavour toppings – cheddar or red Leicester cheese come in easy to use grated packs.
You could use any other tinned beans such as red kidney beans, haricot or borlotti or chickpeas if you don't have any black beans in the cupboard or if you couldn't find any in store.
Cooking Vegetarian? Always read labels to make sure each recipe ingredient is vegetarian. Products and ingredient sources can change.