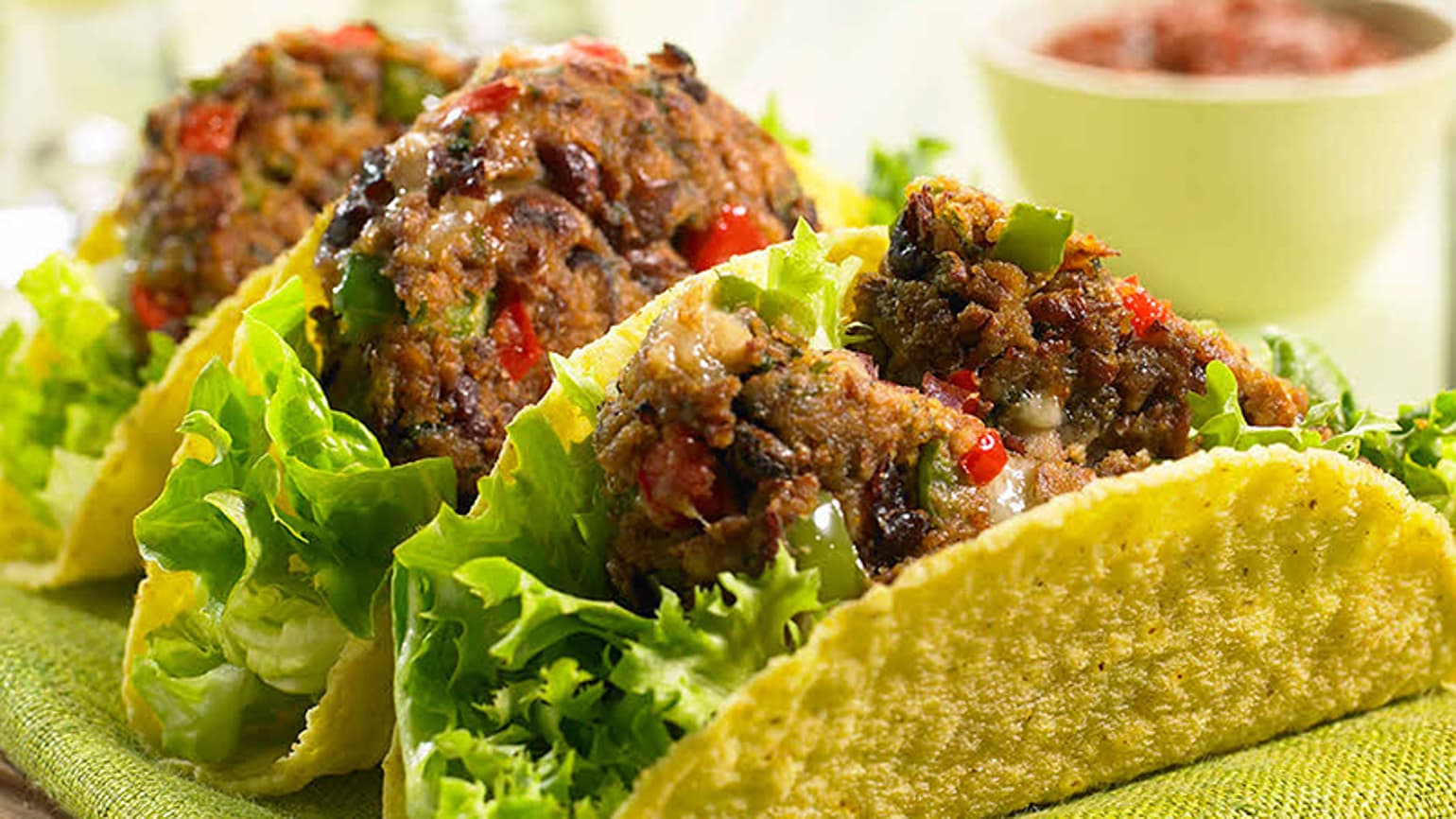 Vegetarian Burger Tacos
Hearty vegetarian burgers with mixed pinto beans and cheddar cheese served on a bed of crispy lettuce in a crunchy taco shell.
Ingredient List
1 Old El Paso™ Stand & Stuff Taco Dinner Kit
100 g of cheddar cheese, cut into small chunks
50 g of fresh breadcrumbs
1 can of red kidney beans, drained and rinsed
1 can of pinto beans, drained and rinsed
1 small red pepper, diced
1 green pepper, diced
1 egg, beaten
1 crispy shredded lettuce
1 handful of chopped coriander
A few lugs of oil for brushing
Preparation
Throw the pinto beans into a food processor and pulse until you get a chunky texture.
Empty into to a large bowl and stir in the taco spice mix. Toss in the crunchy peppers, cheese chunks, breadcrumbs, egg and coriander and mix it up.
Roll up your sleeves, wet your hands and shape the mixture into 10 burgers. Brush with a little oil and whack them under the grill or on a BBQ on a moderate heat for 4-5 minutes each side until golden brown.
Warm the Flat Bottom Taco Shells, following the instructions on the box.
Grab the warm taco shells. Stuff them with some lettuce, and a couple of burgers. Our tacos are twice cooked so they're extra crunchy and you can load them up. Top off with a dollop of tangy salsa and let everyone get stuck in to these tasty bean tacos.