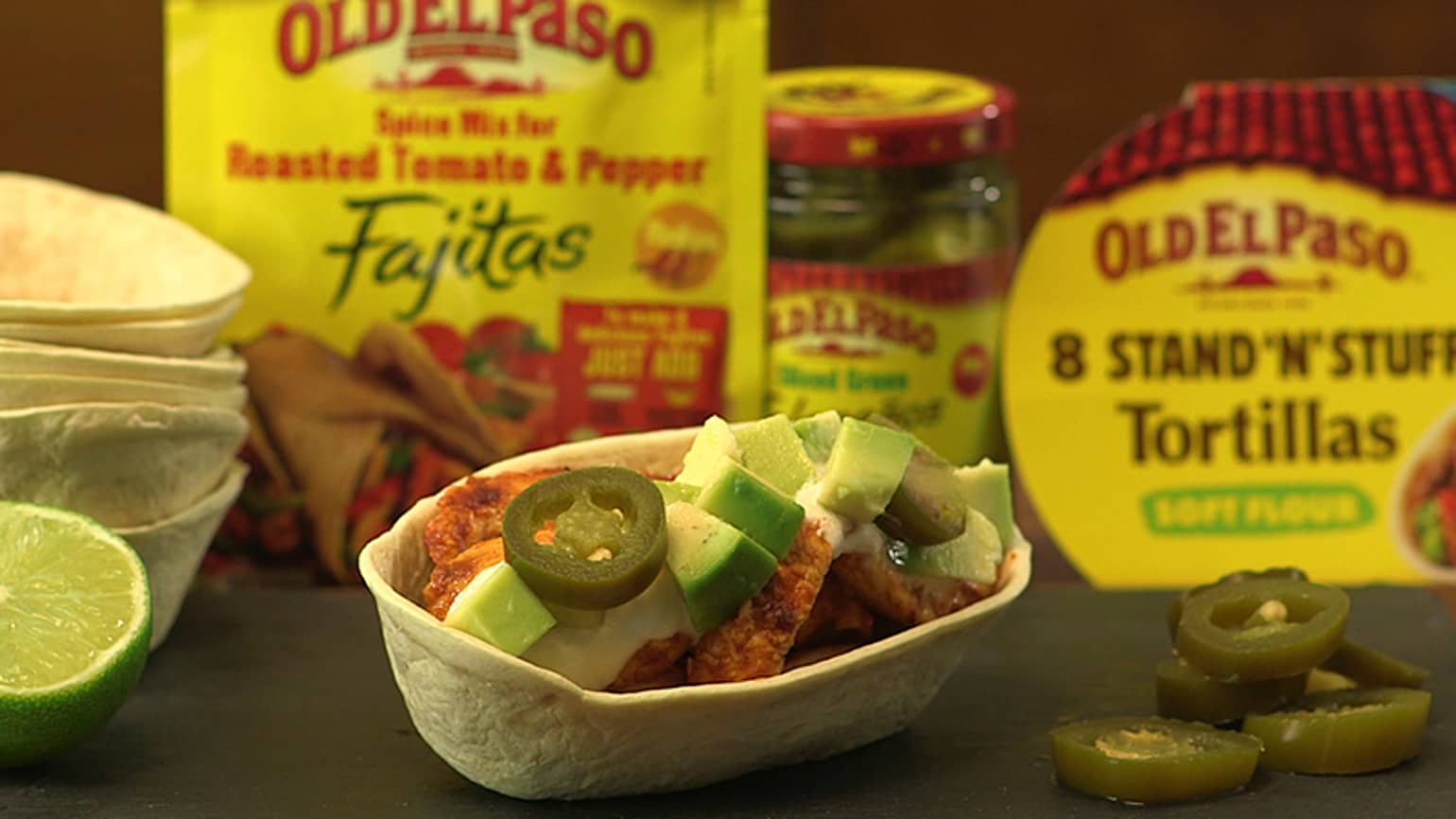 Zesty Chicken & Avocado Stand 'N' Stuff™ Tacos
Tender strips of chicken, coated in sizzling Roasted Tomato & Pepper Seasoning Mix, topped with spicy jalapenos and creamy sliced avocado, served in warm soft Stand 'N' Stuff™ Tortillas.
Ingredient List
500 g of boneless, skinless chicken breasts sliced
1 Old El Paso™ Roasted Tomato and Pepper Seasoning Mix
2 tbsp vegetable oil
1 Old El Paso™ Stand 'N Stuff™ Soft Tortillas
1 jar of Old El Paso™ Sliced Green Jalapeños
2 ripe avocados, peeled, pitted and diced
1/2 cup sour cream
Half a lime
Preparation
Firstly combine the Red Tomato and Pepper Seasoning Mix to the sliced chicken breast in a mixing bowl until chicken is evenly coated.
Turn on the hob to a medium heat and add oil to your pan and when hot then add your seasoned chicken. Cook the chicken for approx. 8 minutes or until browned on the outside and cooked through.
Then remove the chicken and pan from the heat and leave to the side for a few minutes.
You can now heat the Stand 'n' Stuff™ Soft Tortillas in a preheated oven for 7-9 minutes on 165ºC on a baking sheet, loosely covering the soft taco's in foil or you can heat in a microwave on full power for about 30 seconds.
Lastly you can fill your heated Tacos with the Seasoned Chicken, the Jalapenos and Avocado and top with sour cream and a squeeze of lime or your favourite toppings. Then dig in!