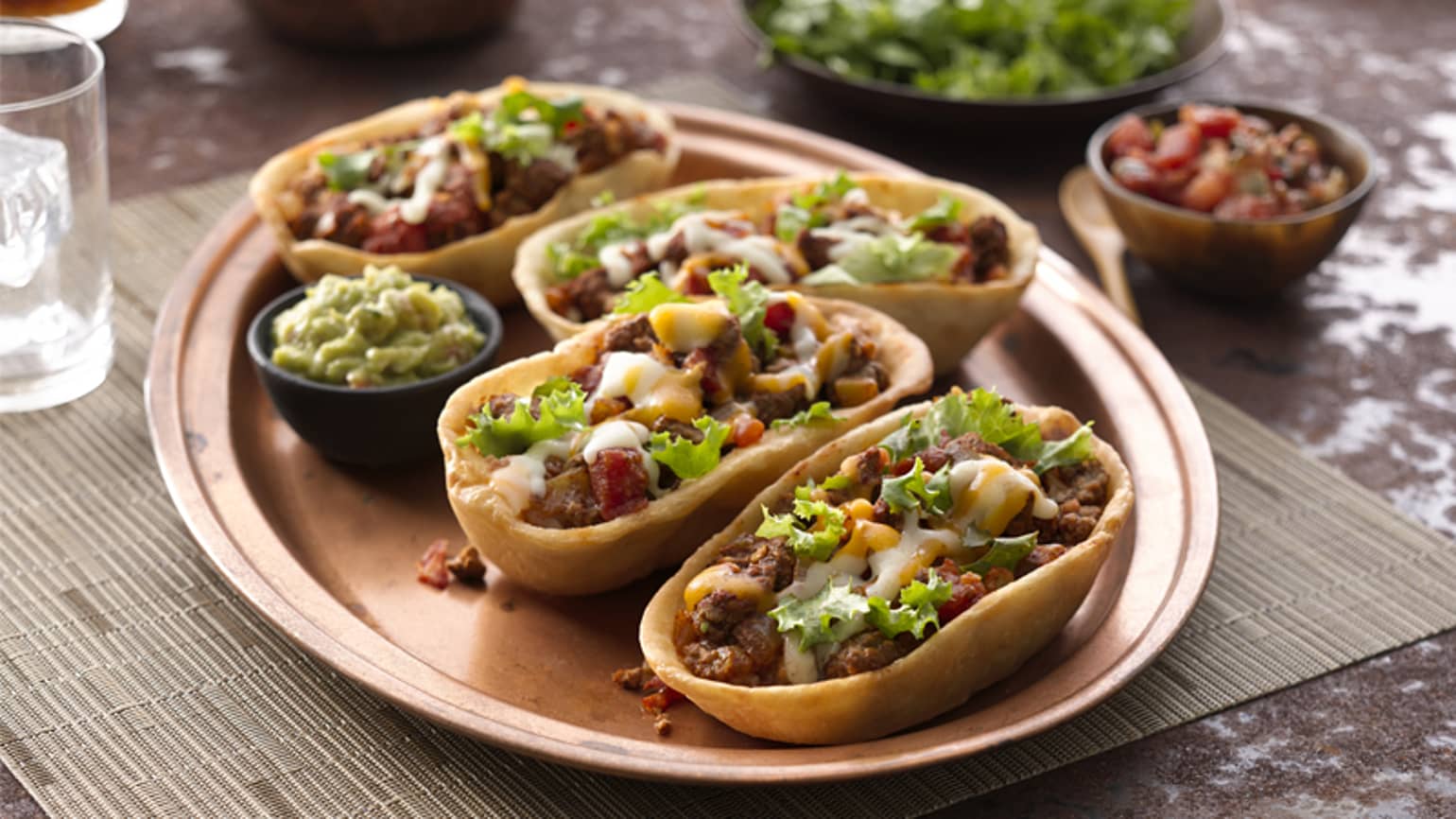 Beef Chimichanga Tacos
Chimichanga reinvented – try these crisp tortillas filled with all your favourite chimichanga ingredients!
Ingredient List
Vegetable oil for deep frying, plus 1 tablespoon for frying the beef
1 onion, chopped
1 garlic clove, finely chopped
1 green chilli, finely chopped
500 g beef mince
1 tablespoon mild chili powder
1/2 teaspoon ground cumin
400 g tin chopped tomatoes
1 pack (193 g) Old El Paso™ Stand 'N' Stuff Soft Tortillas
1 tin (435 g) Old El Paso™ Refried Beans
110 g Mexicana or Cheddar cheese, finely grated
1/2 green lettuce, shredded
100 g soured cream
150 g guacamole
Preparation
Heat 5-6 cm of vegetable oil in a large deep pan or deep fat fryer, to 180°C, or until a small piece of bread browns in 10 seconds.
Preheat the oven to 200ºC (180ºC for fan assisted ovens), gas mark 6. Heat 1 tablespoon of the oil in a large non-stick frying pan and cook the onion, garlic and chilli over a medium-high heat for 4 to 5 minutes, stirring, until beginning to soften. Add in the beef and continue to cook for 5 minutes until cooked. Stir in the spices and cook for 2 minutes, until fragrant before pouring in the tomatoes. Bring to a gentle simmer and cook for 5 to 7 minutes, stirring, until the mixture has thickened and the liquid has reduced. Remove from heat.
Using a fork, poke holes several times in the bottom of each tortilla. Cook the torillas, in batches in the preheated oil, for 1 to 2 minutes, using tongs to turn tortillas halfway through, until lightly brown all over. Drain tortillas upside down on paper towel-lined baking sheet.
Spread 2 tablespoons of the refried beans over the bottom of each fried tortilla. Divide the beef mixture between the tortillas and top with 2 tablespoons each of cheese. Place onto a baking sheet and cook for 3 to 5 minutes, in the oven, or until the cheese has melted. Serve with the lettuce, soured cream and guacamole.
Expert Tips
Alternatively try using turkey mince instead of beef.
Short on time – skip the deep fat frying and serve in warmed tortillas.