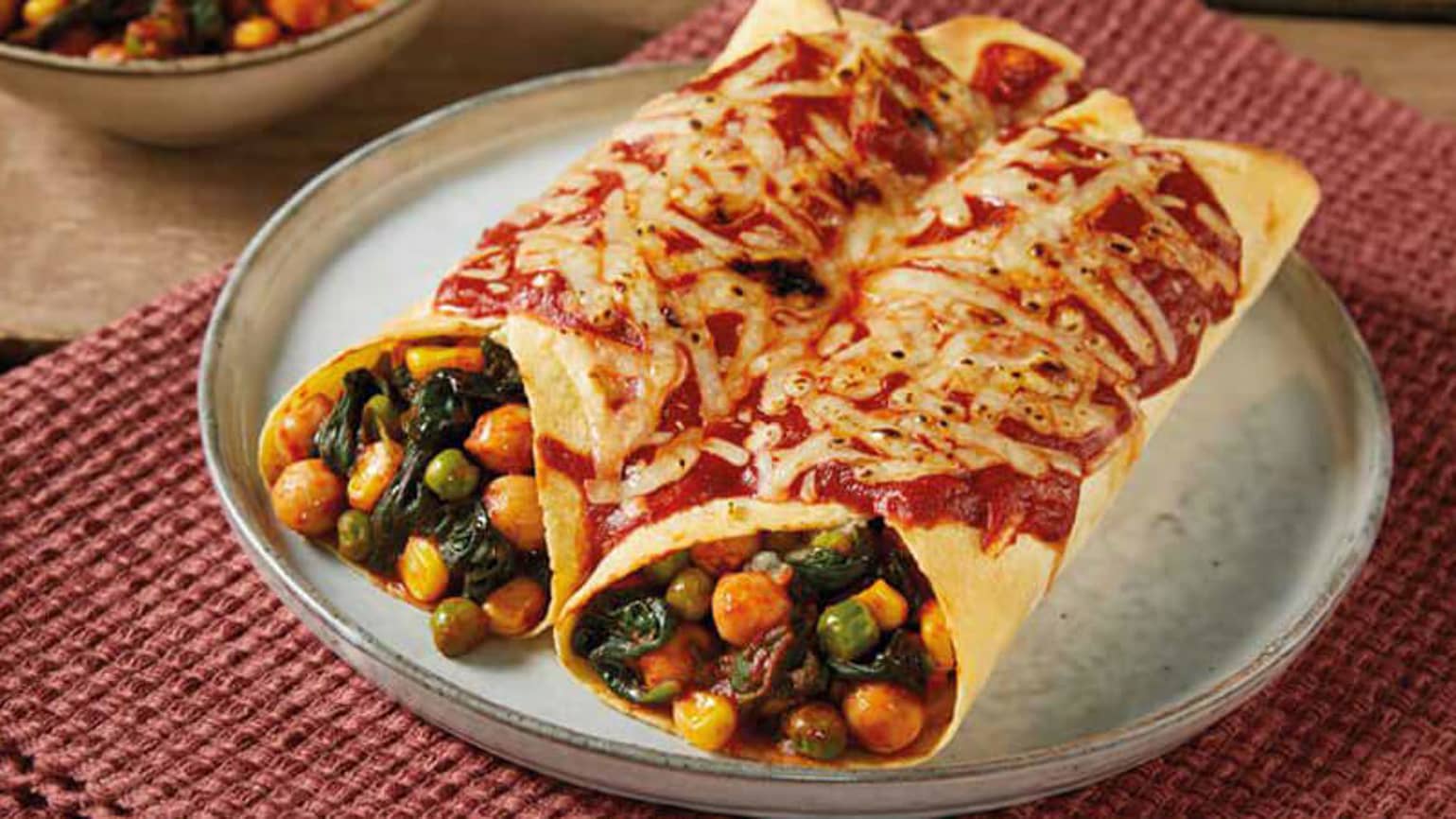 Chickpea, Sweetcorn and Spinach Enchiladas
Loaded with ingredients found in your food cupboard, these enchiladas are easy to make and always satisfy hearty appetites at dinner.
Ingredient List
1 Old El Paso™ Cheesy Baked Enchilada Kit
1 tbsp vegetable oil, plus extra for greasing (14g)
1 onion, finely chopped (150g)
Sweetcorn 1 small can (200g), drained 1 x 400g can chickpeas, rinsed and drained (240g)
1 x 400g can chickpeas, rinsed and drained (240g)
80g frozen peas, thawed
40g reduced fat mature cheddar, finely grated
80g frozen spinach, thawed
Preparation
Preheat oven to 180°C (Fan 160°C; gas mark 4).
Mix seasoning from meal kit with 150ml hot water and both pouches of cooking sauce.
Heat the oil in a large pan and cook the onion until soft.
Add the beans, peas, sweetcorn and spinach, together with half of the cooking sauce mixture. Bring to the boil and simmer for a few minutes.
Warm the tortillas according to the pack instructions, and grease an ovenproof dish.
Place a large spoonful of the vegetable mixture onto the centre of each tortilla, roll and place in the dish.
Spoon over the remaining cooking sauce mixture and sprinkle with finely grated cheese.
Bake for 10 minutes or until golden.
Expert Tips
You can use any other vegetables and beans you happen to have in your cupboard and freezer.
Try any other cheeses you like, such as 40g grated hard cheese or ½ pack (65g) thinly sliced reduced fat soft mozzarella.
Serve with mixed salad leaves, smashed avocado or homemade slaw made with shredded red cabbage, carrots and onion.