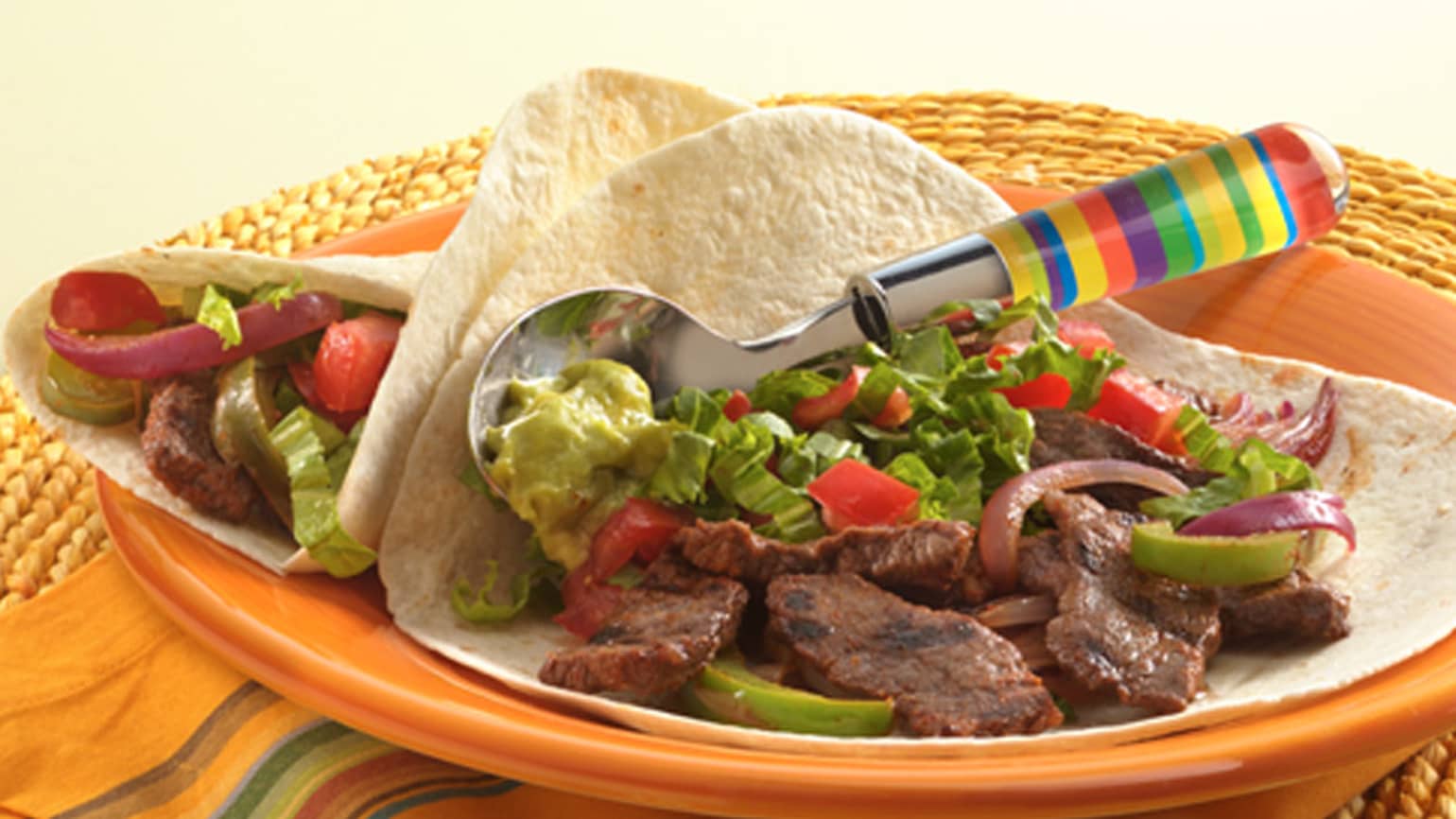 Chipotle Beef Fajitas
Pull out this just-for-two recipe when you're in a hurry. You'll get a fabulous meal ready in just 20 minutes!
Ingredient List
Fajitas
1 tablespoon vegetable oil
1 medium red onion, sliced
1 medium green or red pepper, sliced
225 g sirloin steak, sliced
1 packet (25 g) Old El Paso™ Garlic & Paprika Seasoning Mix for Tacos
2 tablespoons lime juice
2 teaspoons chipotle paste or sauce
1 teaspoon honey
4 Old El Paso™ Super Soft Regular flour tortillas, warmed
To Serve
80 g guacamole
80 g soured cream
Handful of shredded lettuce
2 tomatoes, seeds removed and diced
Preparation
Heat the oil in a large non-stick frying pan and cook the onion and pepper for 3 to 4 minutes, over medium-high heat. Stir in the beef and continue to cook for 3 to 4 minutes.
Mix together the taco seasoning, lime juice, chipotle paste and honey in a small bowl then add to the beef, and vegetable mixture. Cook for a further 2 minutes then remove from the heat.
Spoon the beef and vegetables evenly down the center of each tortilla. Top with guacamole, soured cream, shredded lettuce and/or chopped tomatoes. Roll up each tortilla around filling.
Expert Tips
This can also be cooked on the grill plate of a bbq. Toss all the vegetables and steak into the taco mixture before placing onto the grill plate. Cook for 5 minutes with the lid down, or until the beef and veg are done to your liking.