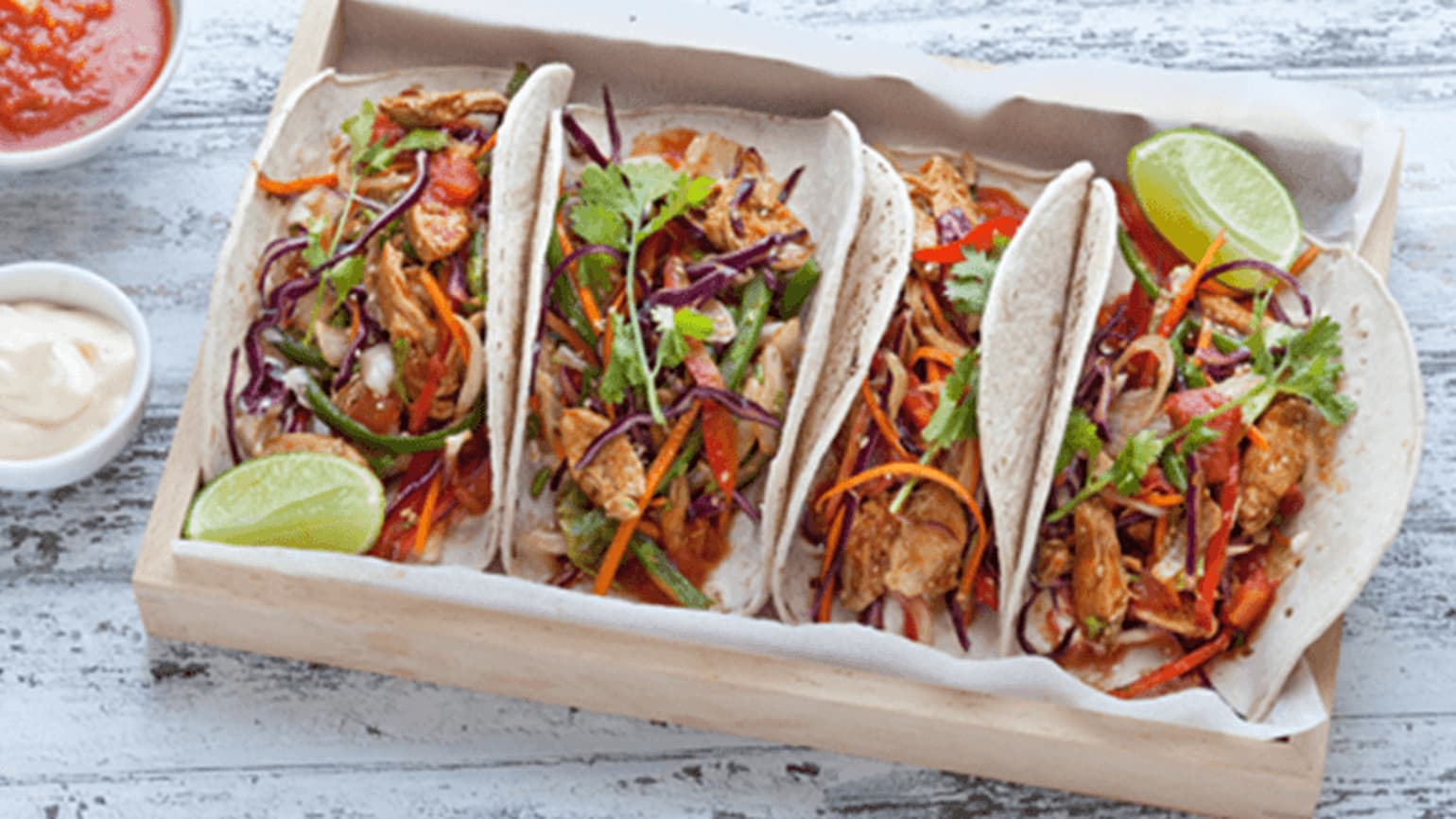 Asian-Style Gluten Free Chicken Fajitas
Combine two delicious cuisines in one with our gluten free chicken fajitas and Asian-inspired salad recipe. Gather your ingredients and use our easy Gluten Free Smoky BBQ Fajita Kit to put this delicious dish together. Mix up your Asian-inspired salad in a bowl and serve with hot fajitas for the ultimate gluten-free Mexican meal.
Ingredient List
1 Gluten Free Smoky BBQ Fajita Kit
2 tablespoons Olive Oil
500g chicken fillets
1/4 red cabbage, thinly sliced
1/2 Iceberg lettuce, thinly sliced
200g of cooked green beans
2 carrots, grated
1 red pepper, cut into strips
1 onion, chopped
Coriander, chopped
2 tablespoons of mayonnaise
1 tablespoon of sesame seeds (optional)
Salt
Pepper
For the dressing:
2 tablespoon of peanut oil
1 tablespoon of rice vinegar
1 teaspoon of Gluten Free Soy Sauce
1 teaspoon of honey
Preparation
To make these Asian-style gluten free chicken fajitas, heat a little oil in a frying pan and sizzle the chicken over medium heat until golden. Add the salt, pepper, seasoning mix and a small glass of water to the pan. Cook for 20 minutes until the chicken is thoroughly cooked.
Prepare the dressing by combining all the ingredients together and keep in the fridge.
In a bowl, mix together the red cabbage, iceberg lettuce, green beans, grated carrots, red pepper, onion, coriander and sesame seeds. Add in the dressing. With a fork, pull apart the chicken and add it to the salad.
Heat the gluten free tortillas:
Microwave: Pierce the pack and place it in the microwave. Heat for 35 seconds on full power (800 watts). Open the pack and separate the tortillas.
Pan: Heat a pan and toast the tortillas for 5 seconds on both sides. Wrap in a tea towel to steam.
To serve, add the mayonnaise, the chicken salad and the tomato salsa on the tortilla. Then, just fold and enjoy your Asian-inspired gluten free chicken fajitas!
Expert Tips
You can also mix the mayonnaise with chilli sauce to spice up your dish!