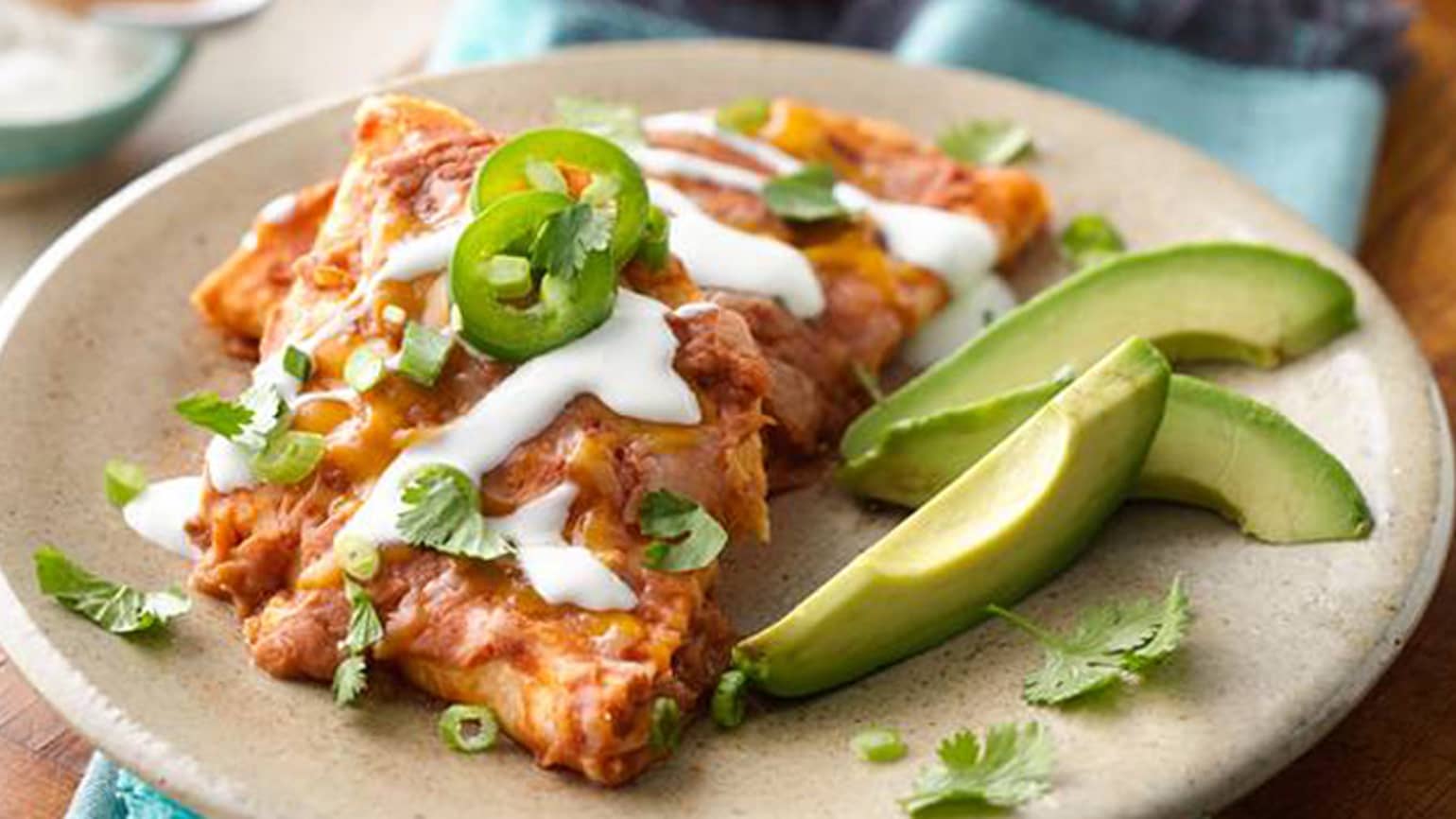 Easy Enfrijoladas Bake
Say En-free-ho-la-dahs--delicious Mexican comfort food that is similar to enchiladas, except the beans are on the outside in a creamy bean sauce.
Ingredient List
Enfrijoladas Bake
1 tin (435g) Old El Paso™ Refried Beans
1/2 jar (215g) Old El Paso™ Sliced Green Jalapeños, drained and chopped
250g Old El Paso™ Thick 'N' Chunky Salsa
225g mixed ready grated Cheddar and Red Leicester cheese
12 Old El Paso™ Regular Flour Tortillas
To Serve
Soured cream
Fresh chopped coriander leaves
Sliced green chilli
Sliced avocado
Preparation
Preheat the oven to 200°C (180°C for fan assisted ovens), gas mark 6. Lightly grease a 36cm x 23 cm shallow baking dish.
Place the beans, jalapeños and salsa in a blender or food processor and blend for 30 seconds-1 minute or until smooth. Pour the bean sauce into a shallow dish at least 23cm in diameter.
Using tongs, dip both sides of each tortilla into the bean sauce. Place in the baking dish and sprinkle 2 tablespoons of the cheese in the centre. Fold the tortilla in half, then in half again. Repeat with the remaining tortillas, overlapping them in the dish. Pour any remaining bean sauce over the tortillas and sprinkle over the remaining cheese.
Bake for 12-16 minutes or until piping hot and cheese has melted. Serve topped with soured cream, chopped coriander leaves and green chilli and with avocado slices on the side.
Expert Tips
For a more substantial supper serve with a side of mixed salad leaves with tomatoes, cucumber and celery.
Add some finely chopped spring onion to the bean sauce for extra colour and flavour.