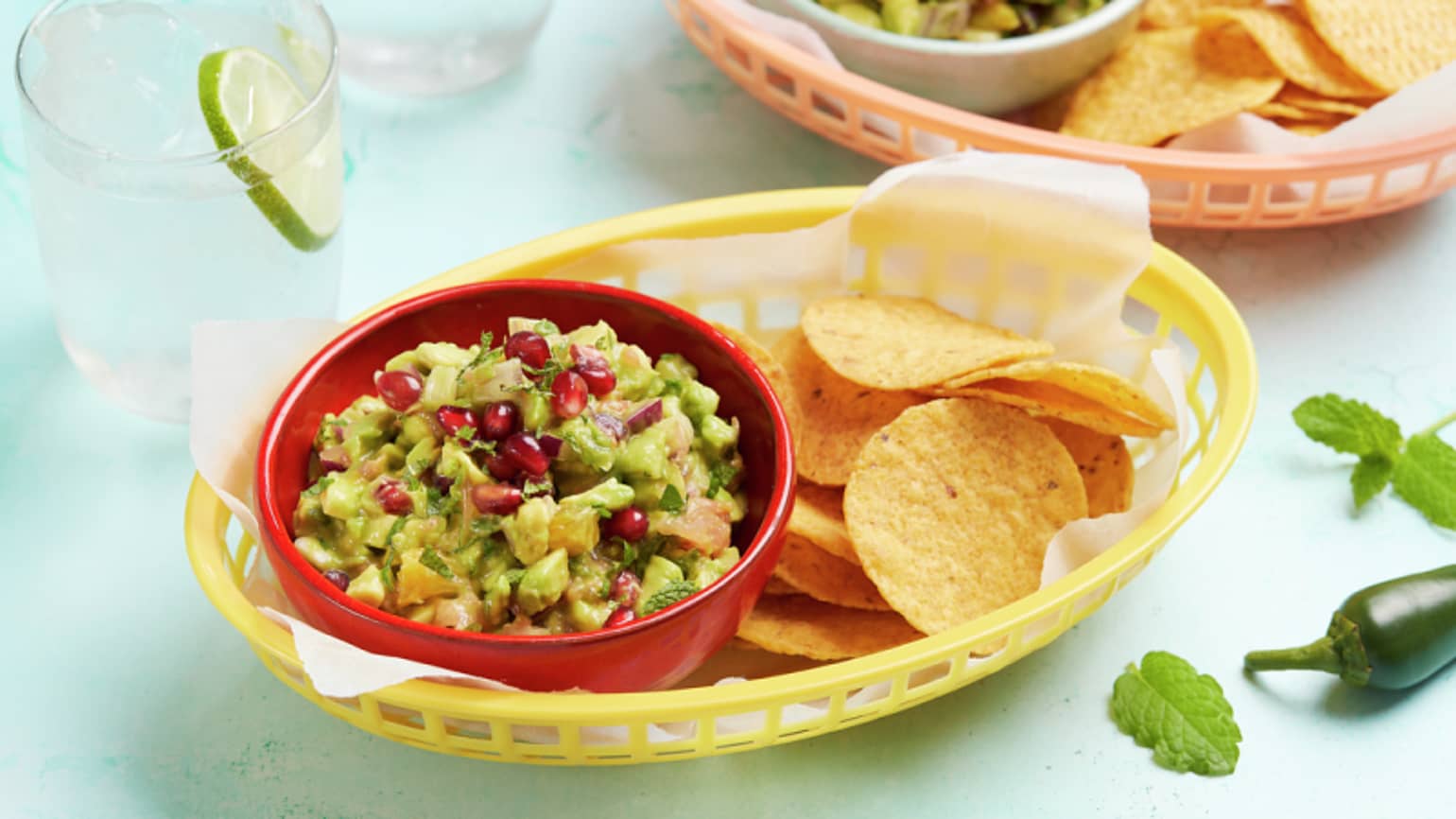 Fresh Citrus Guacamole
Not only is this citrus guacamole a refreshing dip, it's also the perfect BBQ side dish for meat or fish.
Total Time
1 Hours
25 Minutes
Ingredient List
1 pink grapefruit, peeled, segmented and chopped, reserve 1 tablespoon of the juice (see Tips)
1 orange, peeled, segmented and chopped, reserve 1 tablespoon of the juice
1/2 red onion, finely chopped
1 large green chilli, deseeded and finely chopped
2 large ripe avocados, peeled, stones removed and flesh diced
1/4 teaspoon salt
2 tablespoons freshly chopped mint
2 1/2 tablespoons pomegranate seeds
Preparation
Place the grapefruit and orange segments with the reserved juices in a large bowl. Stir in the onion, chilli, avocado, salt and nearly all the mint and pomegranate seeds and mix well. Season with freshly ground black pepper, if you like. Transfer to a serving bowl.
Cover the surface closely with cling film and refrigerate for 1 hour to allow the flavours to blend. Garnish with the remaining mint and pomegranate seeds and serve.
Expert Tips
Segmenting the grapefruit and orange will release plenty of juice but only add 2 tablespoons to the guacamole, otherwise the consistency will be too sloppy.
Give it a twist and replace the orange with 75g finely diced ripe mango flesh.
Don't just dip! Spoon this fruity guac into Little Gem lettuce leaves and top with shredded spring onion for a refreshing and light summer salad.
Cooking Gluten Free? Always read labels to make sure each recipe ingredient is gluten free. Products and ingredient sources can change.