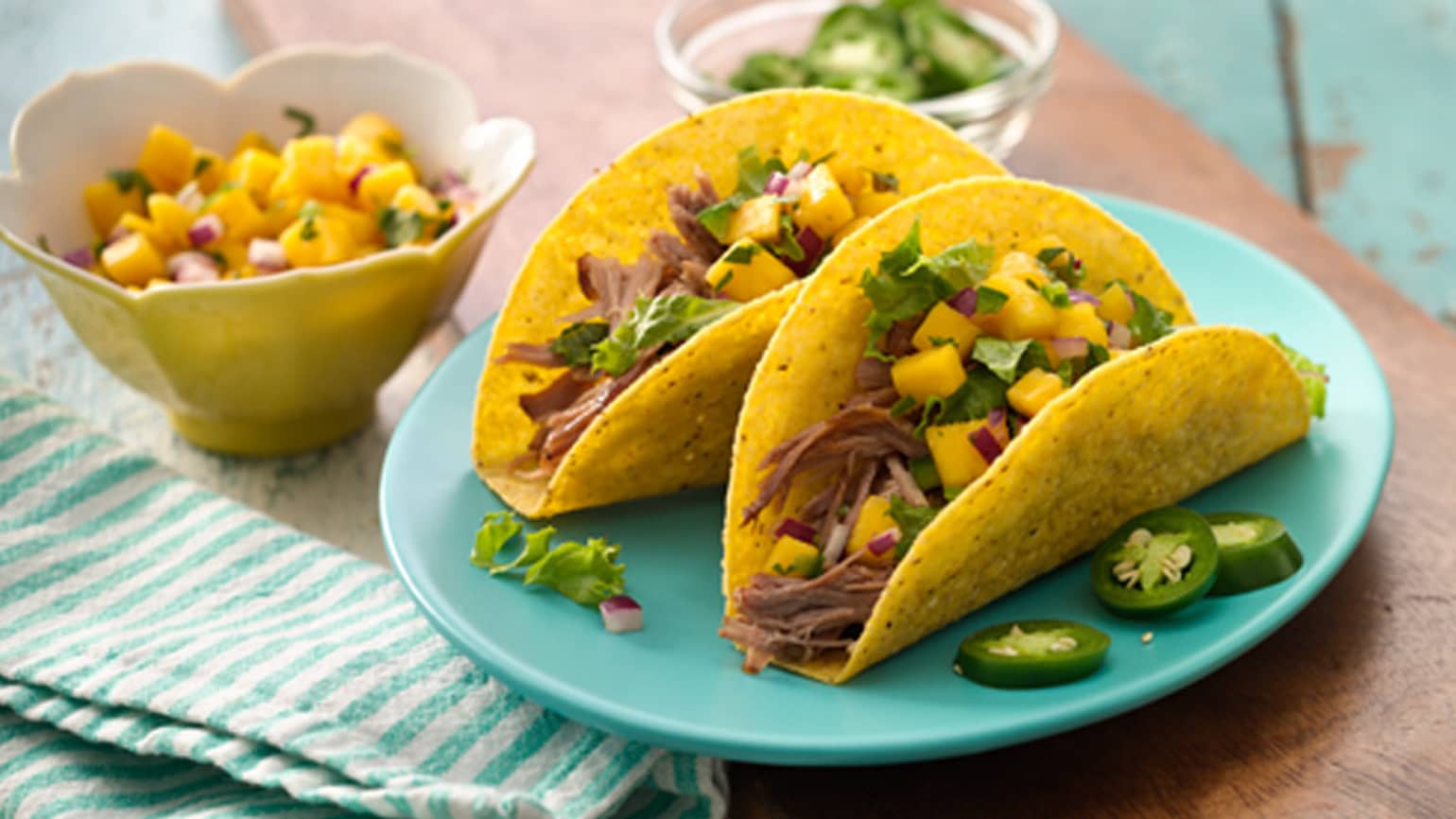 Pulled Pork Tacos With Mango Salsa
Try this mouth-watering recipe for pulled pork tacos with mango salsa - succulent shredded pork and tangy salsa in Stand 'N' Stuff Soft™ Tortillas.
Ingredient List
1 Old El Paso™ Extra Mild Super Tasty Stand 'N' Stuff Soft Taco Kit
1 tablespoon olive oil
1 - 1.5 kg piece pork shoulder
1/2 red onion, roughly chopped
250 ml pineapple juice
1 bay leaf
125 ml water
1 lime
1 lettuce
Mango Salsa - 1/2 Red Onion, 1/2 bunch coriander and 1 mango
Preparation
Firstly you will need to preheat your oven to 160°C.
Turn on the hob to a medium heat and add oil to your casserole dish and when hot then add your Pork shoulder and brown the outside all over for 3-4 minutes, or untill cooked through.
Then remove the pork from the heat and leave to the side for a few minutes in a separate dish. You can now add the onion to the empty casserole dish and brown for a few minutes until softened.
Add to the onion the pineapple juice, the bay leaf and the Tomato Stir in Sauce with ½ cup of added water and stir. You will then need to add back into this sauce the pork shoulder and cover the top of your casserole dish with a layer of foil and the dish lid, to ensure you keep all the juices and steam in the dish for slow cooking.
Now you can put the casserole dish with pork into your preheated oven for 3 hours or until the meat is fully cooked and tender and falling apart.
10 minutes before your pork is ready to come out of your oven you can heat the Stand 'n' Stuff Soft Tortillas. In the same oven place flat and separatly for 7-9 minutes on a baking sheet, loosely covering the soft taco's in foil or you can heat in a microwave on full power for about 30 seconds.
To make the Mango salsa all you need to do is slice the mango into small pieces, and chop the half of a red onion you have left and half the bunch of coriander up nice and finely and combine all of this in a bowl and top with a squeeze of lime juice.
If you want to also mix the sour cream with the Seasoning Sachet of cooling sour cream topping so its ready to serve on the table, and also shred your lettuce and keep in a bowl ready to serve.
You will now need to remove the Tortillas and the pork from the oven. Using two forks gently pull outwards with forks against the pork and it should pull apart easily make sure to shred all of the meat so its ready for adding to your tacos.
Lastly you can fill your heated Tacos with the Pulled pork, shredded lettuce, top with sour cream topping or the mango salsa and then Dig in!