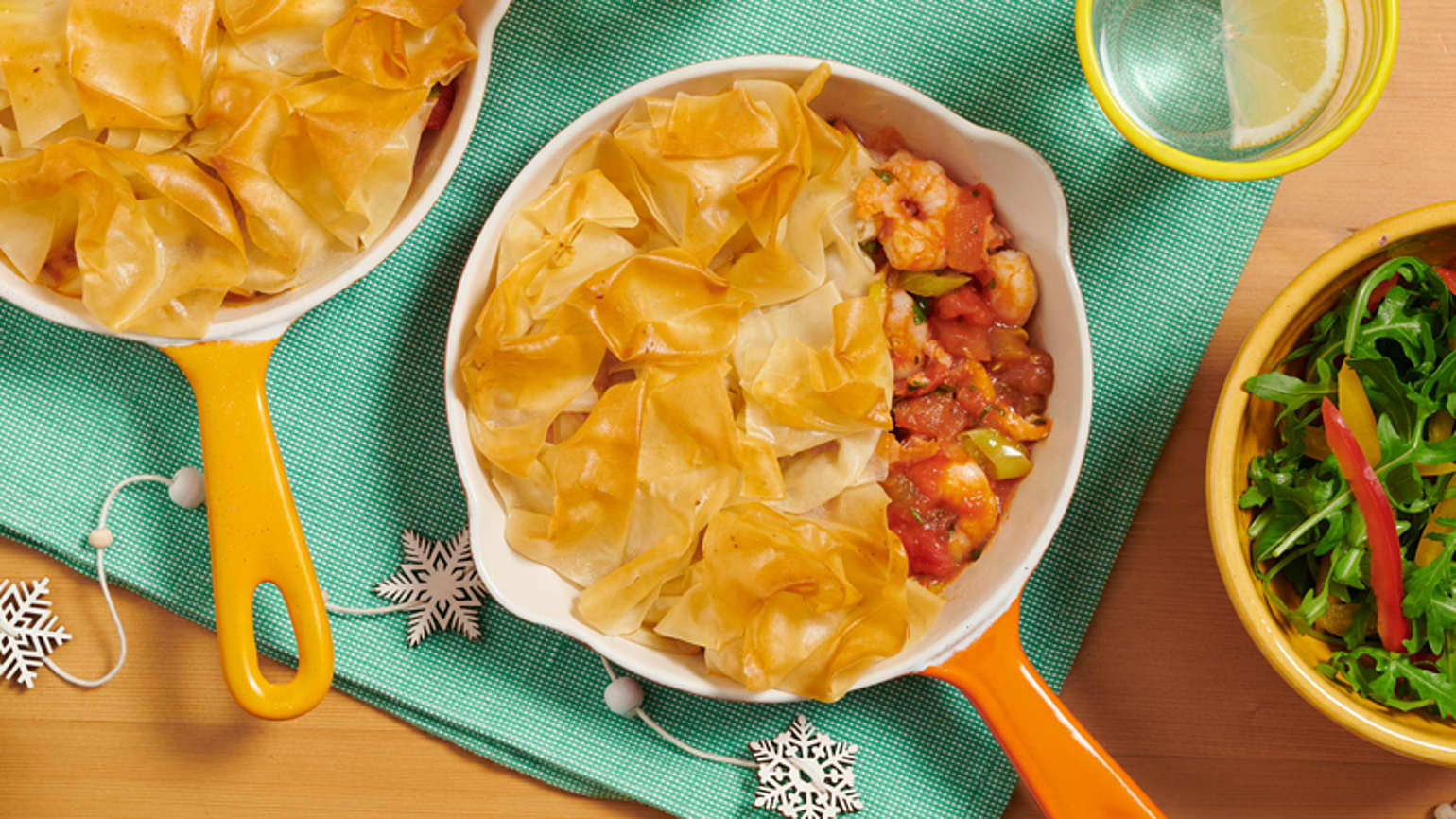 Salsa Seafood Filo Pies
Filo pastry gives these quick and easy seafood pies a wonderful light and crisp topping – perfect for a simple lunch or supper served with salad.
Ingredient List
1 tablespoon olive oil
4 spring onions, trimmed and chopped
1 garlic clove, crushed
1 x 226g jar Old El Paso™ Thick 'N Chunky Salsa
2 tablespoons freshly chopped flat leaf parsley
250g peeled and cooked king prawns, patted dry on kitchen paper
150g smoked salmon, chopped
35g butter, melted
1 x 270g pack Jus-Rol™ Chilled Ready Rolled Filo Pastry Sheets
Preparation
Preheat the oven to 180°C (160°C for fan assisted ovens), gas mark 4.
Heat the oil in a large frying pan over a medium heat. Add the spring onions and garlic and cook, stirring, for 2-3 minutes until softened. Remove from the heat and stir in the salsa and 4 tablespoons water. Leave to cool for 5 minutes then stir in the parsley. Season to taste with salt and freshly ground black pepper, if liked.
Divide the prawns and salmon evenly between four individual shallow ovenproof gratin dishes (see Tips). Spoon the salsa mixture evenly over the top and stir gently to mix.
Unroll the pastry onto a board with one long side facing you. Cut through the stack of pastry sheets vertically into four (each thinner stack will have seven strips of pastry).
Brush seven strips of pastry with some of the melted butter, then scrunch each one up loosely and use to cover the filling in one dish. Repeat with the rest of the pastry strips and butter to cover the remaining three dishes.
Place the dishes on a large baking sheet and bake for 20-25 minutes or until the pastry is crisp and golden. Serve immediately with salad, if liked.
Expert Tips
You will need dishes that have about 500ml capacity and are fairly shallow with plenty of room to fit the scrunched pastry strips on top. Alternatively, make one whole pie using a shallow ovenproof dish about 23cm diameter (you may not use up all the pastry strips).
Keep the filo pastry covered with a clean damp tea towel before it's buttered to prevent it from drying out.