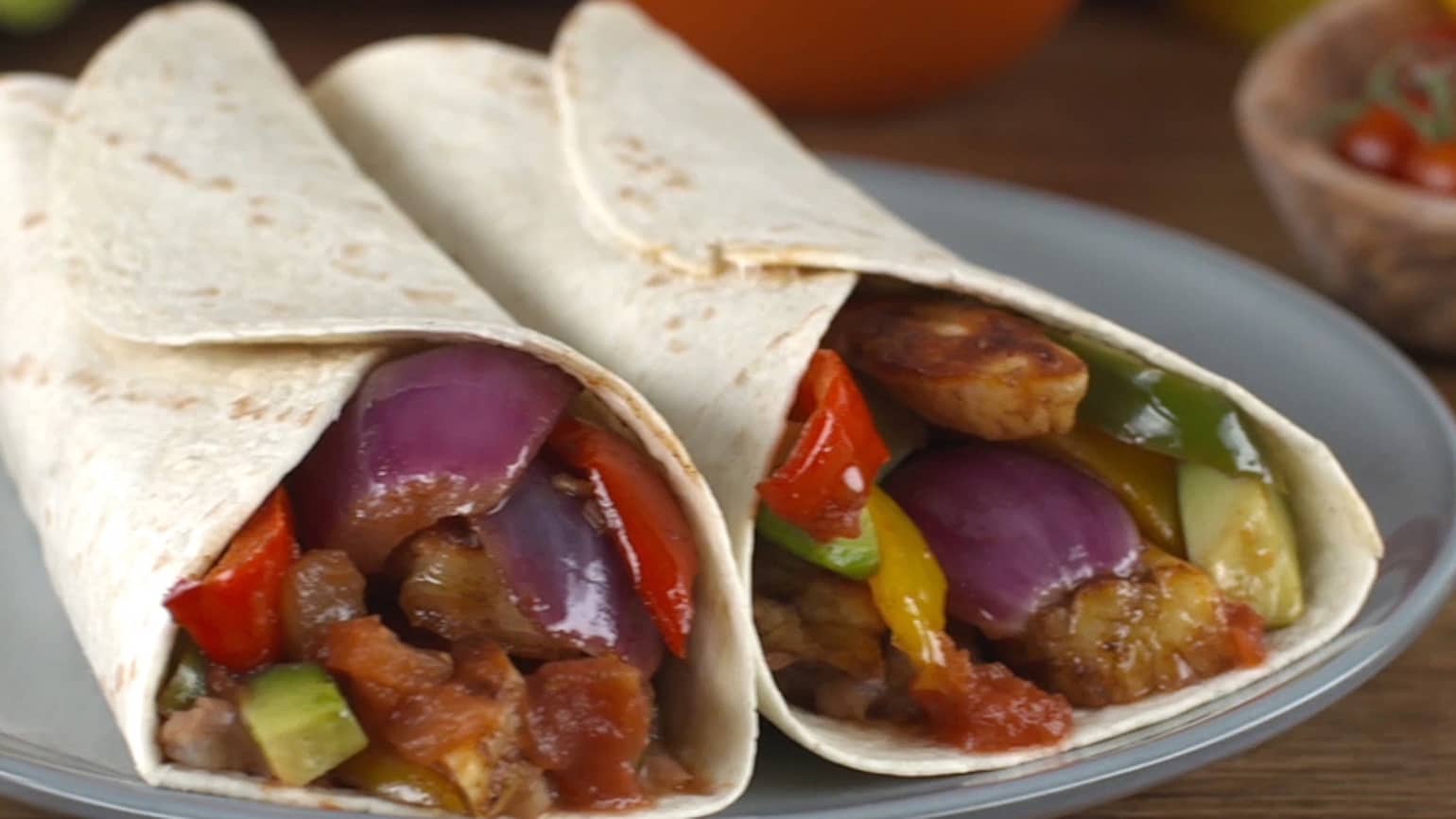 Roasted Halloumi & Vegetable Fajitas
Tuck in to a delicious Mexican meal with this roasted halloumi fajitas recipe. Suitable for vegetarians! Follow the step by step instructions from Old El Paso.
Ingredient List
3 bell peppers (red, yellow and green), sliced
1 red onion, sliced
250 g halloumi cheese, sliced into strips
1 Old El Paso™ Fajita Seasoning
1 Old El Paso™ Squeezy Guacamole salsa
1 Old El Paso™ canned refried beans
1 small onion, finely chopped
1 garlic clove, finely chopped
1 tsp lime juice, freshly squeezed
8 Old El Paso™ wheat tortillas
From the cupboard: olive oil, black pepper
Preparation
Pre-heat the oven to 200ºC (180ºC fan-assisted). Place the halloumi, onion and peppers on a baking sheet brushed with oil. Sprinkle the fajita seasoning over them. Use a spatula to mix everything together, and spray or drizzle with more oil on the top. Place in the oven for 15 minutes or until the halloumi is roasted to your liking.
In the meantime, in a fry-pan, sauté the onion in 1 tbsp olive oil for 3 min over a medium heat. Add the garlic, sauté for 1 min, pour the Refried Beans and cook for 5 min stirring occasionally. Squeeze lime juice over the bean mixture, add salt and black pepper to your liking and stir until combined.
Heat the tortillas as indicated on pack. Spread one tbsp of refried beans on a warm tortilla, fill with roasted halloumi and vegs, and top with Guacamole Salsa.
Expert Tips
For an extra heat top with Old El Paso™ Green Jalapenos.